Charles and Diana wedding coin
---
The Charles and Diana wedding coin was produced in 1981 to celebrate the wedding of Prince Charles and Lady Diana Spencer. More than 750 million worldwide TV viewers watched Charles, Prince of Wales, marry Lady Diana Spencer on Wednesday July 29th, 1981 at St Paul's Cathedral. A vast amount of memorabilia and commemorative items were produced, ranging from Coca-Cola bottles to fine china. Some of these items are now trading for very high prices. A slice of Prince Charles and Lady Diana's wedding cake now even sells for up to £2,000! Such a momentous event was unsurprisingly commemorated with a wedding coin.
.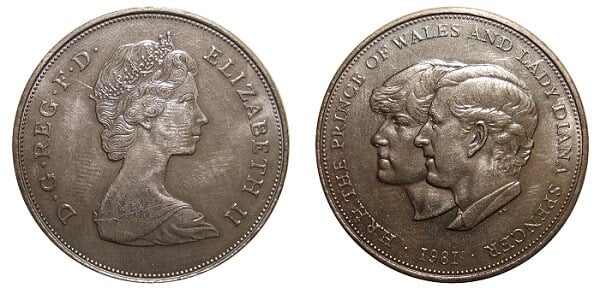 1981 Charles and Diana wedding Crown coin, image courtesy of Jerry 'Woody' via flickr.com.
The Royal Mint were amongst those commemorating Charles and Lady Diana's global event. They struck almost 27 million copper-nickel, and sterling silver proof, Royal Wedding Commemorative Crown coins. The Lady Diana and Prince Charles Wedding coin shows the married couple on the reverse, and Her Majesty Queen Elizabeth II on the obverse. This makes it very special, being the only UK coin to feature three portraits.
Crowns are legal tender, and were once used as common circulating currency. From the 19th century onward, they were increasingly struck only as commemorative coins. These were issued for collectors or numismatics, and not used as a means of exchange.
As legal tender, crowns had a face value 5 shillings, 25 pence, or a quarter of a pound. In 1990 the value was revised and increased to £5. This does not change the legal tender, face value, of coins issued before 1990, which remains at 25p. This matters little, as all crowns are now worth far more than their denomination or face value.
Currently, depending on their condition, copper-nickel versions of the Royal Wedding Crowns are selling for around 80p to £4.
The proof version contains 0.841 troy ounces of silver. Therefore, if the price of silver was £14 per troy ounce, the proof coin would be worth around £11.80 at the very least. Coin collectors or numismatics and collects of Royal memorabilia will pay much more however.
.
---
Charles Diana 10th Wedding Anniversary Gold Five Pound Proof
Ten years after the wedding, to celebrate its anniversary, the Royal Mint also struck a Gold Proof £5 coin, or Quintuple Sovereign. This was issued for the Falkland Islands and, like other £5 coins, it has a fineness: of 916.7 (22 carat gold).
These coins were issued boxed with a certificate, and had a mint limit of only 200 coin sets. This means they are extremely rare, and command a commensurately high price when they come on the market.