Coin Grading
---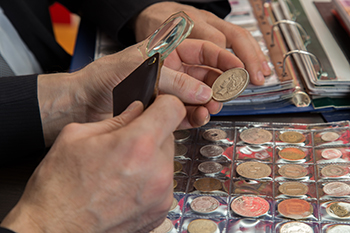 Coin grading is a process undertaken to ascertain the 'grade' of a coin. For coin
collectors or numismatists it is important to be able to classify and grade coins
and, confusingly, today there are many varied and widely accepted systems. All
have the objective of clearly defining the quality of a coin's original strike, its state
of preservation, lustre, colour, and overall attractiveness.
.
Mints primarily produce coins to serve as circulated currency. Historically,
before mass production, tests or proofs were produced to ensure quality
and correct any faults.These original proof coins are very rare and incredibly
collectible.
Today proof coins are deliberately struck for collector purposes. These
exquisite coins are made to exacting standards, and are given repeat impressions
or pressings for extra clarity of design. They are then immediately stored in
tamper-proof containers or capsules to ensure the highest quality condition.
As coin grading deals with appearance, it is highly subjective, and experts will
sometimes disagree over a coin's grade.
.
Coin Classification
.
In the early years of coin collecting, three general terms (other than proof) were used by numismatists to describe the quality of coins:
1 Good - where circulation has worn the surface of the coin but where major details were still visible.
2 Fine - where features were less worn and some of mint's original lustre still shows with the major and minor detail visible.
3 Uncirculated - where the features of the coin were sharp, and the lustre approaching the state of a new coin.
These three terms are still used but, as the popularity of coin collecting grew, numismatists refined the classification to eight levels:
1 Good
2 Very Good
3 Fine
4 Very Fine
5 Extremely Fine
6 About Uncirculated
7 Mint State
8 Mint State (perfect)
.
The Sheldon Coin Grading System
.
In 1948, US numismatist Dr. William Herbert Sheldon sought to expand the scope of coin grading. Not content with eight grades, Sheldon further refined the system to a total of 70 grades.
The 'Sheldon System' was rapidly adopted in American coin collecting circles and has also become widely accepted across the world as the de-facto standard of quality for graded coins.

.
European Systems
Many European countries have also developed their own particular systems as below:
.
Description

Sheldon category

Unworn visible design area

France

German speaking

Italy

Netherlands

Portugal

Scandinavia

Spain

United Kingdom

Good

G-4

10%

AB
(Assez Beau)

GE
(Gut erhalten)

M

G
(Goed)

REG

2

RC

G

Very Good

VG-8

25%

B (Beau)

SGE (Sehr
gut erhalten)

B
(Bello)

ZG
(Zeer Goed)

MREG

1-

BC

VG

Fine

F-12

50%

TB
(Très Beau)

S
(Schön)

MB (Molto
Bello)

Fr
(Fraai)

BC

1

BC+

F

Very Fine

VF-30

75%

TTB (Très Très Beau)

SS
(Sehr schön)

BB
(Bellissimo)

ZF
(Zeer Fraai)

MBC

1+

MBC

VF

Extremely
Fine

Ef-40, or
Xf-40

90%

SUP
(Superbe)

VZ
(Vorzüglich)

SPL
(Splendido)

Pr.
(Prachtig)

Bela

01

EBC

EF/XF

About Uncirculated

AU-50

95% +
some luster

No use

UNZ− (Fast unzirkuliert)

MSPL (Molto Splendido)

No use

No use

0-01

No use

UNC

Mint State

MS-60 to
64

100% +
luster

SPL (Splendide)

UNZ
(Unzirkuliert)

SPL/FDC

FDC
(Fleur de Coin)

Soberba

0

SC

UNC

Mint State

MS-65 to
70

100% +
full luster

FDC
(Fleur de Coin)

STGL (Stempelglanz)

FDC
(Fior di Conio)

FDC

FDC (Flor
de Cunho)

0

FDC

FDC
.
Coin Valuation
.
Coin collecting is a worldwide multi-billion dollar industry. For ease of trading, pricing and insurance purposes, accurate classification is important to all those involved.
There are multiple professional grading services around the world, but the Professional Coin Grading Service (PCGS), and the Numismatic Guaranty Corporation (NGC) are the best-known two. These companies will grade a coin for a fee, certify the grade, and then seal the coin is a special tamper-proof holder as part of the certification process.
Different coin grading services also have their own additional grades within the Sheldon system, with unique tiers, sometimes exclusive to specific coins.
.
BullionByPost has a growing collection of rare coins, covering periods of British, European and American history, including a number of graded coins. Customers can call our Support Team on 0121 634 8060 or email [email protected] for further information.