Fifty Pence coin
---
.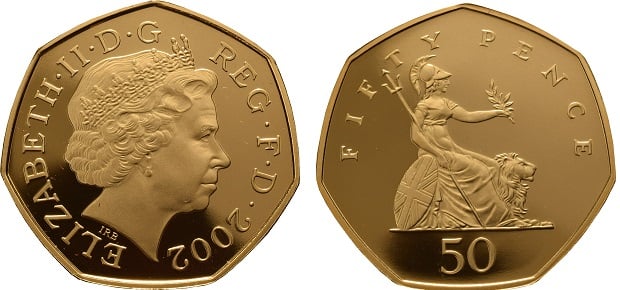 .
At BullionByPost we offer a range of collectible gold fifty pence pieces. Weighing slightly less than a one ounce gold coin, the fifty pence coin offers collectors a chance to own something a little bit different; a design and shape traditionally reserved for lower value tender, made from a precious metal and to a premium finish.
---
History of the 50p coin


.
The fifty pence coin was introduced into Britain's currency in 1969, just ahead of decimalisation, and has remained in circulation ever since. As the name suggests, it has a face value of half of one Pound Sterling. The unique seven-sided design is known as a Reuleaux Polygon and has been used for coins around the world, as well the British twenty pence piece.
Made of cupro-nickel, the coin has a silver hue and originally weighed 13.5g with a diameter of 30 mm. Since 1997 however the coin weighs 8.0 grams and has a diameter of 27.3 mm.
---
Gold Fifty Pence coins


.
Aside from producing the currency coins, the Royal Mint has also produced a number of gold commemorative fifty pence coins. Celebrating the anniversaries of key British events or specific people, these rare proof quality coins are highly collectable.
The first gold proof fifty pence coin was minted in 1992 (and again in 1993) to celebrate the completion of the European Single Market, and production of this type of coin has continued almost annually since then, with some years seeing multiple releases in various series. Examples include the Women's Social and Political Union (2003), Samuel Johnson (2005) and the London 2012 Olympics.
When the size of the currency coin was reduced in 1997, the Proof Gold issues were also reduced. Older coins contained 24.126 grams of gold and were 30mm in diameter, but newer coins contain 14.2083 grams of gold and followed the currency coin to 27.3mm.
---
Collectible 50p coins


.
The Royal Mint also produces a number of other collectable fifty pence coins. Recent years have seen popular designs such as the Beatrix Potter series in 2016-18, and the Stephen Hawking coin for 2019.
Although collectable, it should be noted these coins are not gold or silver bullion and are not intended as investment coins. Made to a 'Brilliant Uncirculated' quality – higher than 50p coins you'd find in your loose change – they are still a copper-nickel alloy. Their value is realised in the unique design and limited mintage, opposed to an intrinsic metal value.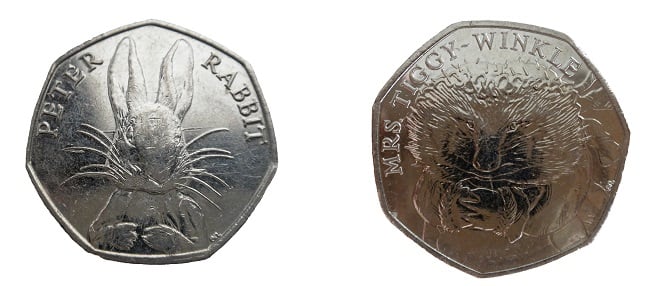 Coin photos courtesy of Amanda Slater via Flickr & Creative Commons license.