Wedding Sixpence
---
A sixpence coin has a rich tradition with weddings in Britain. 'Something old, something new, something borrowed, something blue ', is a very well-known wedding rhyme. Even today, many brides follow these instructions as a nod to tradition.
Few, however, quote the last line, and the full rhyme is as follows:
.
"Something old,
something new,
something borrowed,
something blue,
and a sixpence in her shoe."
.
The rhyme dates back to the 1800s, with the first record of the poem found in a magazine in 1871. Each of these items has a symbolic meaning:
Old items are meant to ward off evil.

New items symbolise the future, optimism and hope.

By borrowing an item from a happily married or fortunate person it is hoped their luck will rub off.

Blue is the colour of love, purity and fidelity. It is also a colour to ward away evil.
Growing numbers of brides, or gift-giving relatives, are now buying a wedding sixpence to keep in their shoes on the big day.
.
---
Silver sixpence in her shoe
.
What of the little remembered sixpence in her shoe? This was a gift given by the bride's parents, and usually the father. Traditionally, the father of the bride slipped the coin into her left shoe, before she walked down the aisle. It was a practical gift for her to spend on herself. Symbolically, the silver sixpence represents prosperity and financial fortune.
.


.
Giving brides a coin is a common tradition in many countries. In Sweden, a gold coin is given by the bride's mother. In Spain and Latin America, a coin is sometimes given by the groom to his bride. After the ring, it symbolises commitment, and his willingness to share wealth.
As well as being a gift for the bride and groom, there are many other traditional uses of silver coins. Monarchs have chosen it as a denomination for Maundy Money. A silver coin, usually a Threepence, was traditionally put in Christmas puddings. However, after the silver threepence was changed to nickel-brass in 1937, it became more common to use a sixpence.
.


.
---
The silver sixpence
.
The sixpence, known as 'tanner' or 'sixpenny bit', was first minted from sterling silver way back in 1551. The coin, later struck from Cupronickel (or copper-nickel), survived decimalisation and was revalued to two and a half new pennies. It was finally withdrawn as common currency in 1980.
.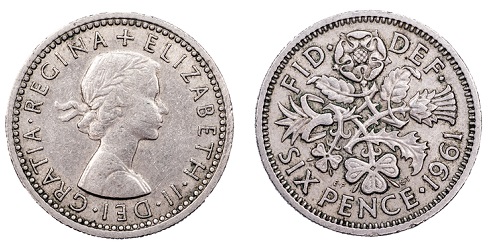 1961 Cupronickel or copper-nickel were the last to be minted for circulation currency.
The Royal Mint has struck limited edition sixpence coins after this date for collectors or numismatics.
.
---
Reviving the tradition
.
There is a growing trend in the UK however to revive the 'sixpence in her shoe' wedding day tradition. Fortunately, even today, there are many sixpence coins still available to turn into family keepsakes.
.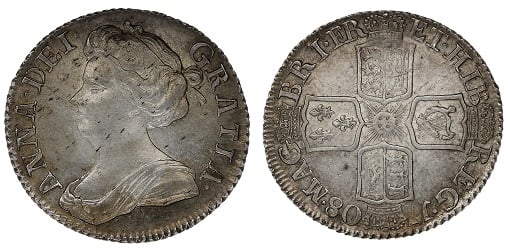 A rare and valuable silver 1708 Queen Anne Silver sixpence.
Old, circulated Cupronickel coins can be easily bought for a few pounds. There are growing numbers of companies offering these specially packed for the bridal market. For such a special occasion however, historical sixpences make excellent gifts for weddings. A sixpence from a related anniversary year would make for a treasured gift.
.