When did the Pound coin come out?
---
The current UK bi-metallic, dodecagonal – or 12 sided – one pound coin came out on March 28th, 2017. The outer ring is made of a nickel-brass alloy, while the inner planchet is made of a nickel-plated alloy. The one pound coin has featured the portrait of Queen Elizabeth II since the original version came out in 1983. Four different portraits have been used, but the latest was designed by Jody Clark, and was introduced in 2015. The reverse below features the rose, leek, thistle and shamrock design by David Pearce - representing the four countries of Great Britain.
.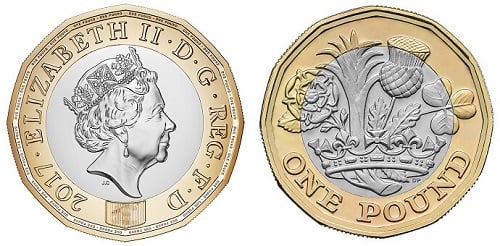 The current dodecagonal, twelve sided, English one pound coin
The dodecagonal design was released to combat the growing number of fake coins that had entered circulation. It has better security features, and replaced the original round pound coin that was first issued in April 1983.
.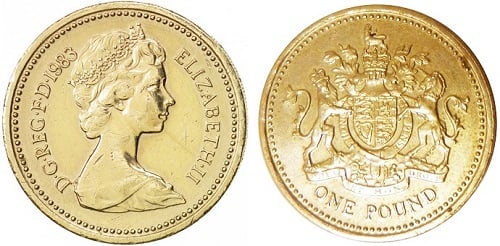 The original round pound coin that was first issued in April 1983
These 1983 coins replaced the English one pound banknote, which ceased to be legal tender on March 11th, 1988. One pound bank notes continue to be issued in Scotland, the Isle of Man and the Channel Isles.
.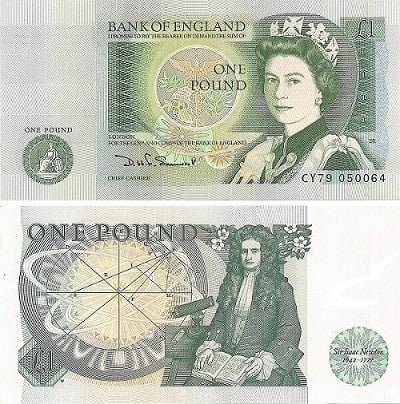 One pound bank notes, removed from circulation on March 11th, 1988
---
Precious metal one pound coins
.
In addition to the original round, nickel-brass circulating pound coins, the Royal Mint has also produced several 22 carat gold versions. These commemorative coins have been issued for the numismatic collector market and celebrate various national subjects. These include subjects such as capital cities, the opening of the Forth Bridge, and the Egyptian Arch Railway Bridge in Northern Ireland.
.

A 22 carat One pound Coin from the Royal Mint
---
One pound sovereigns
.
Sovereign coins were first struck in 1489 for Henry VII. In 1817, following the Great Recoinage, gold sovereigns were reissued as legal tender with a face value of one pound. As such, the Sovereign is regarded as the original one pound coin. It ceased to be used a common currency at the start of the First World War, and during the conflict it was replaced with the one pound banknote.
.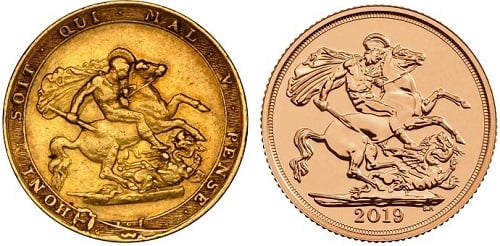 Modern 22 carat Gold Sovereigns
Beginning in 1957, the gold Sovereign was reissued as a legal tender bullion coin, keeping its one pound face value. A bullion coin's true value is based on its precious metal content, which far exceeds the legal tender face value.
.