Coin rounds
---
Coin rounds as a term is technically a misnomer, as coins and rounds are actually separate entities, though the two do sometimes get confused.
Rounds are one of the many product options available to investors in precious metals. Gold and silver rounds are almost identical physically to gold and silver bullion coins. Rounds however are not the same thing; they can have different rules that could have implications for many investors.
In some ways, rounds could be considered closer to bullion bars, as the two do share common properties. The obvious difference is in shape. Some investors find rounds easier to handle and store, and they are also generally made in smaller and more convenient weights than bars.
Problems arise because rounds do often look like coins. They are made to similar dimensions, and have designs not unlike coins. However, for legal and tax purposes, rounds are very different to coins.
.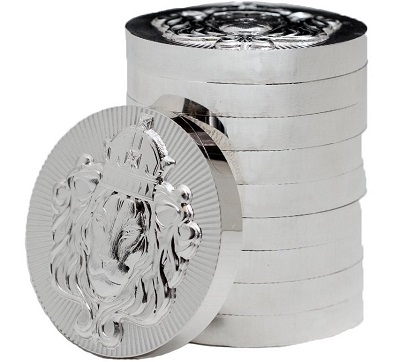 Scottsdale silver stacker rounds are 2oz fine silver rounds, designed with interlocking edges for easy storage.
.
---
Silver rounds
.
Silver coins are typically legal tender, minted by a sovereign government mint. In the UK this is done by the Royal Mint as instructed by royal proclamations. In contrast, silver rounds are not issued by (or on behalf of) official government mints, and will not have a face value. This is ultimately the biggest difference between coins and rounds, and one of the most important for investors.
Many official coins enjoy tax benefits thanks to their status as legal tender. All UK coins struck by the Royal Mint, for example, are Capital Gains Tax exempt.
Silver rounds do not benefit from this, as they have no currency face value and are produced by private mints, not sovereign mints. In the UK therefore, their value is based purely on their precious metal content.
Like bars, most rounds are minted to show their weight, purity, and feature the refiner's name and/or logo. Some rounds also carry attractive designs commemorating events, locations, or beliefs.
.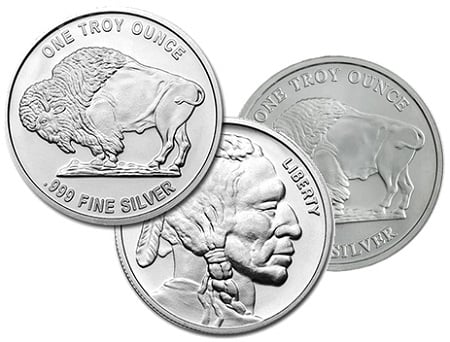 Silver rounds are a very popular way of buying silver in the United States. Designs can be based on common currency coin designs but must be noticeably different in order to avoid confusion. Picture courtesy of Money Metals via Flickr.
.
Silver rounds are particularly popular in the United States, where their designs can be very similar to US coins, and the tax differences are lessened. In order to avoid confusion however, the US Hobby Protection Act of 1973 requires US rounds to be easily identifiable as such. The aim of the legislation is to clearly differentiate rounds from currency. It therefore also out-laws silver rounds being made in the same weight and dimension as US currency.
.