Uncirculated Coins
---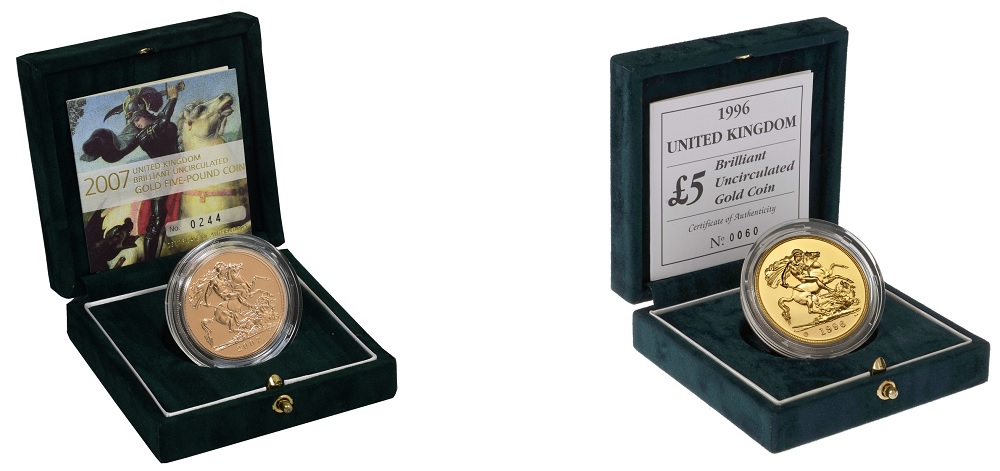 The phrase 'uncirculated coins' refers to whether a coin has been in general circulation or not. The United Kingdom stopped using gold and silver coins as circulation earlier in the 20th Century, so the term has started to come to reflect the quality or grade of a coin.
Brand new bullion coins are uncirculated, but knowing the difference between the types of uncirculated coins can make a big impact on the coin you end up with, and the price you pay to acquire one or the money you make from selling one.
.
---
What is an uncirculated coin?
.
When speaking about Gold and Silver bullion coins, almost all modern coins are uncirculated. Prior to the First World War, gold and silver coins were minted for public circulation. Small denomination coins like the Shilling and Groat were made of silver, while the Sovereign and Guinea were produced from Gold. All of these coins were used regularly across Britain.
Since the outbreak of the war, however, gold and silver has been used almost exclusively for uncirculated currency. Coins produced from these precious metals are intended for collectors and investors, and as such they cost much more than their face value.
Even though several UK investment coins are classed as legal tender – such as the Britannia and the Sovereign – they are not circulated as currency that can be spent in day to day shopping and trading.
.
---
Brilliant Uncirculated
.
The other way in which uncirculated is used, in reference to coins, is in the grading system for their quality.
The highest grade is a proof coin, but just below this is the 'Brilliant Uncirculated' grade. These coins are produced to a very high standard using hand-finished dies to ensure a very sharp image. A Brilliant Uncirculated coin is struck twice, speeding up the production time in comparison to the Proof coin, while maintaining a higher quality than a bullion coin.
A Brilliant Uncirculated coin is still limited in nature compared to the normal bullion coin, and as such has a higher premium thanks to its semi-numismatic quality.
To learn more about the various qualities of modern bullion coins, including the Brilliant Uncirculated coin, click here.
.
---
Uncirculated coin sets
.
An uncirculated coin set can refer to either of the two types of coin mentioned above. The Brilliant Uncirculated quality of coin is typically released on its own, but the Royal Mint does occasionally produce ready-made collectible sets. For example, a four-coin set of Brilliant Uncirculated coins was released for the 50th anniversary of the Queen's coronation.
The Royal Mint produces a number of other coin sets, ranging from proof to bullion quality and celebrating key events. These come with varying numbers of coins, of different denominations. As with many other collectible items, having a set of coins with a popular theme is a great way to increase the value of your coins beyond their intrinsic metal value.