Best long-term investments
---
Many of us are taking the time to think ahead when it comes to our finances, and long-term investments offer the best ways to both protect and nurture your future nest-egg. Gold is one of the best long-term investments you could make; gold investment is simple, and the long-term performance speaks for itself. As the chart below shows, gold has performed very well for investments of ten years or longer.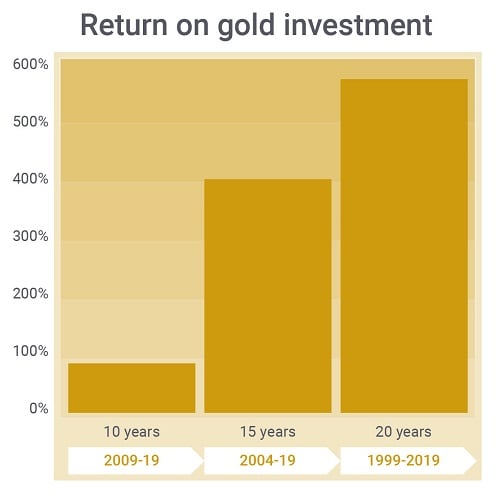 No matter how long the investment was made for, you would enjoy returns that outperform many other investments. For example, a medium-term, 10-year investment had a return of 87.51% - far higher than an ISA would perform in the same time period. Long-term gold investments, such as one made 20 years ago, would have enjoyed an incredible 565.19% return.
To put this into perspective: imagine you had £10,000 to invest in 1999. If you left this in a current account for 20 years, the small amount earned in interest would likely not even have kept up with inflation. The result is that the initial £10,000 would likely be worth less than when you started. An ISA might have performed a little better, but limits in 1999 mean it would have required several deposits each year to take the account to £10,000, and returns on ISAs have historically been barely any better than interest rates. Gold, conversely, has no such limit, is VAT-free when you buy, and performed much better. The £10,000 invested in 1999 would now be worth an incredible £66,519!
One thing that makes gold even more appealing is the lack of hassle involved in owning it. BullionByPost is the UK's number one online bullion dealer, and our easy-to-use system means you can buy gold quickly and discreetly. Once owned, you control your investment; there are no fund managers or stock-pickers to consider, no investor calls to deal with, and no earnings summaries.
.
---
Good long-term investment options
.
When it comes to buying gold bullion there are two distinct options: coins and bars. Both have their advantages, but the decision of whether to buy gold bars or gold coins is ultimately up to the individual investor, and comes down to premiums, tax, and flexibility.
Gold coins will generally have slightly higher premiums than bars, due to their smaller unit size and higher manufacturing costs. They do however offer other benefits; tax being of the most interest to many investors. All investment gold in the UK is VAT-free, which is a great start to any investment, but UK coins also enjoy exemption from Capital Gains Tax (CGT).
For our original example above of £10,000, selling another item back now at that rate would result in a profit of £56,519. For the 2019/20 financial year, the tax-free CGT allowance for an individual is £12,000. This means that £44,519 would be subject to CGT at a rate of 20% or higher. If the £10,000 had been made in UK coins though, all of the profit would be tax-free.
The smaller sizes of coins also mean that they are more flexible when selling. Each single coin can be sold individually as and when you wish. Whether its part-selling to maximise returns, or liquidating the asset to free up cash, gold coins ensure that your investment isn't tied up in one place.
Gold bars lack this flexibility, but their larger sizes allow for the lowest premiums. Buying one kilo of gold in coins would cost more than a one kilo bar. Despite having the same metal weight, the single piece of bullion boasts reduced manufacturing costs. Someone happy to invest for a long time period, in a single product, would be best served by buying the largest gold bar within their budget.
.
Read more about why you should buy gold and, if you have any questions regarding adding gold to your portfolio, please don't hesitate to contact our support team who will be happy to assist. Call 0121 634 8060 or email [email protected] to get in touch.