Gold bar facts
---
Which gold bar to buy?
.
Ounce for ounce, the cheapest way to buy gold is in the form of bars, and the bigger the bar the better the value. This is simply because bars are easier to manufacture than coins and large bars are just as easy to make as small bars. Therefore an investor will get a lower margin and receive more gold for their money in a 12.5 kilo bar than in an attractive 1/10oz Gold Britannia.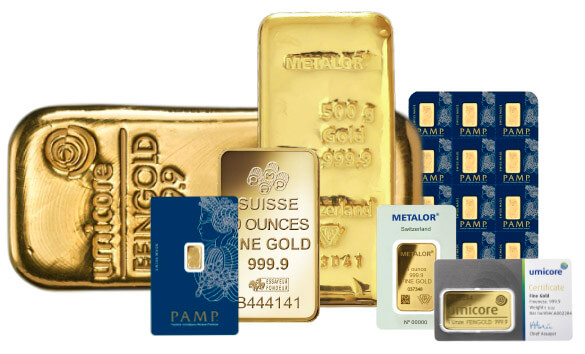 Gold bars are mostly 24-carat pure gold. Some coins may be less pure but, for UK tax purposes, an investment coin must be 18-carat or over. Fortunately, the Gold Sovereign coin is 22-carat (and has been since 1817) while the Gold Britannias started life in 1987 as 22-carat coins and were upgraded to 24-carat in 2013.
.
There are still many reasons to buy small coins or bars rather than large bars. Small bars are easier to store and protect. They are also easier to trade than expensive large bars and offer flexibility; you can't sell part of a 100g bar but you can sell one 10g bar from a collection of 10 at the same total weight.
Coins also have certain tax advantages over bars. In the UK, all gold coins and bars are VAT-Free but gold bars are subject to Capital Gains Tax, whereas coins are not. This is due to the face value attached to them for debt-settling purposes in the courts, but it does offer a way around CGT for investors who may cross the annual threshold if they deal in property, antiquities, or other assets.
.
Types of bar
.
Gold bars are made by either casting ingots in a mould or by minting in a press. Typically, large bars are cast ingots and small bars are minted. Pressing gives a better appearance and a finer finish than casting, but requires more work for larger bars and, given their size, they aren't typically for gift purposes - or even delivery!
Both cast and minted bars are usually impressed with the manufacturers name, weight, and the fineness or purity. Large bars may carry serial numbers but very few are sold with certification. Small bars often come in sealed protective packages which may also carry a serial number as part of an assayer's card.
.
Certification of gold is not required for selling back to dealers in future. Customers often ask us why products don't always come with certification, and the truth is that refiners often do not make them. They are concerned with retaining strict accreditations, which they deem enough proof of the quality of their work. In addition, bullion dealers have specialist equipment to inspect precious metals and prove their weight and purity, so you can rest assured that we can identify your gold or silver for what it is.
At BullionByPost we only buy back bullion from LBMA (London Bullion Market Association) approved refiners. These bars and coins are the best of the best, produced by top refineries in Germany, Switzerland, Belgium and the United States. We buy from these brands and trust them, so buying back their products second-hand is a no brainer for us!
After buying back gold bars Bullion dealers will generally test the metal by cutting it and then sell it back to a refiner for reprocessing, which again negates any need for certification. If, however, a dealer receives a pristine bar or bar in original packaging, they may be able to sell it on as a discounted 'pre-owned bar', avoid reprocessing and pay the seller a small premium.
.
The simple truth is that gold is gold: investors buying physical gold should do their research and know who they are buying from. Read reviews, inspect their website, scope out their customer services. Investors should know that they have total ownership of their investment, without referral to banks, financial institutions and need no certificates or serial numbers. Their gold is easily tested and is worth whatever the market is paying.
.
Weights and dimensions
.
Gold bars come in a huge spread of weights. The world's largest gold bar weighs 250kg, worth well over £6 million, and the smallest, referred to as biscuits, as little as 1 Gram.
Troy ounces and grams are the most widely used measure for weighing gold. A Troy ounce is 31.1035 grams or 1.09714 of the standard British ounce. The less common Tola weight, at slightly over 11.33 grams, is popular in parts of Asia.
.
Bullion Mints
.
All BullionByPost bars are pure 24-carat, manufactured by LBMA approved refiners. The London Bullion Market Association (LBMA) approves refiners and mints that meet the exacting standards for global market trading in its 'Good Delivery List'. The list includes Heraeus, Metalor, PAMP Suisse, The Perth Mint, The Royal Mint, Scottsdale Silver, and Umicore.
.