Gold fund
---
A gold fund is a form of gold investment, usually combining several different investment vehicles, and is generally intended as speculative way of trading gold. This can involve buying bullion, ETFs, investing in gold mining companies, or a combination of the three.
Though many gold funds claim to offer investors the benefits of owning gold, it should be noted that investing in a gold fund is never the same as owning physical gold yourself. We believe investors should always buy physical gold, in order to control every aspect of their investment and reduce all involved risks.
.


.
---
Gold bullion fund
.
A gold bullion fund is primarily focused on physical gold, and involves the fund management purchasing physical gold on the behalf of many customers. The price of these funds is largely reflective of the gold price.
The issue for a gold bullion fund centres around third-party risk. As mentioned above, the prices of these gold funds are broadly the same as physical gold, but with additional fees for fund managers. If the gold fund were to be mismanaged, this is outside of your control. Paying more, to increase your risk, makes gold bullion funds a poor idea.
.
---
Gold ETF funds
.
Gold ETF funds are exactly what the name says - funds trading in gold ETFs. Similar to bullion funds, the prices follow the trends of the gold price. Unlike bullion funds though, most ETFs are not based on specific physical gold; owning an ETF share does not entitle any party in the fund chain to take ownership of gold.
The reward on ETF trading can be higher, as the non-physical nature allows for quicker, speculative trading, but the risks are much higher. This once again seems illogical given that, for the same fee, you could take physical ownership of gold and reduce the risks.
.
---
Gold mining mutual funds
.
Gold mining funds are quite different to the two previous examples. Investment in gold of either form (physical or paper-based) is not the aim in gold mining funds. Instead, money is placed into shares of gold mining companies.
The successes and failures of these companies are magnified by changes in the gold price, increasing the risks and rewards even further. An ounce of gold costs a relatively fixed price to mine; manufacturing costs can change over time, but in the course of a year it will fluctuate far less than the price for an ounce gold. If it costs £800 to mine an ounce of gold, which is then sold for £1,000, the profit is £200. If the price of gold goes up to £1,100 then the profit is now £300 per ounce for the mining company. This is a 50% increase in profit, for a 10% increase in gold price, which can seem appealing to investors. The problem is that the inverse is also true, and a decrease in price will see a magnified reduction in profits for the mining company you have invested in.
Gold mining is a risky business; changes to international legislation, increasing costs, and dwindling gold deposits have put pressure on mining companies in recent years. By investing in these companies, you once again place trust in the fund management to choose good stocks to invest in, and for those ventures to continue to succeed for the duration of your investment.
.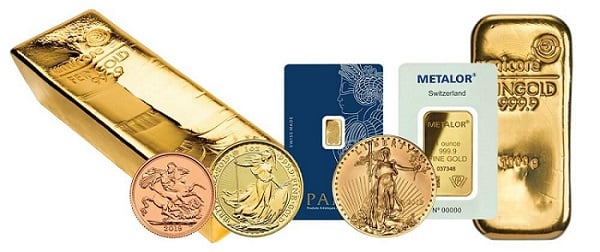 .
Owning physical gold is the only way to mitigate the third-party risk that gold funds introduce, and cut out middleman fees that reduce the value of your money. Physical gold will protect your wealth and give you the ultimate control in any investment.