Low premium gold bullion
---
BullionByPost sell quality gold, silver and precious metal investment coins and bars - all at low premiums. Like all bullion dealers, we trade at a premium, selling slightly over the market price, and buying back just under.
Our premiums, on a huge range of coins and bars from LMBA recognised mints, are always very competitive. We also pride ourselves on the highest levels of customer service from our friendly, experienced and knowledgeable team.
.
Making the right choice for you
Gold bullion has historically been a safe haven store of wealth and a means to diversify an investment portfolio. Nevertheless precious metals come in many forms and investors should tailor their buying to their needs and circumstances: buying the right product at the best price.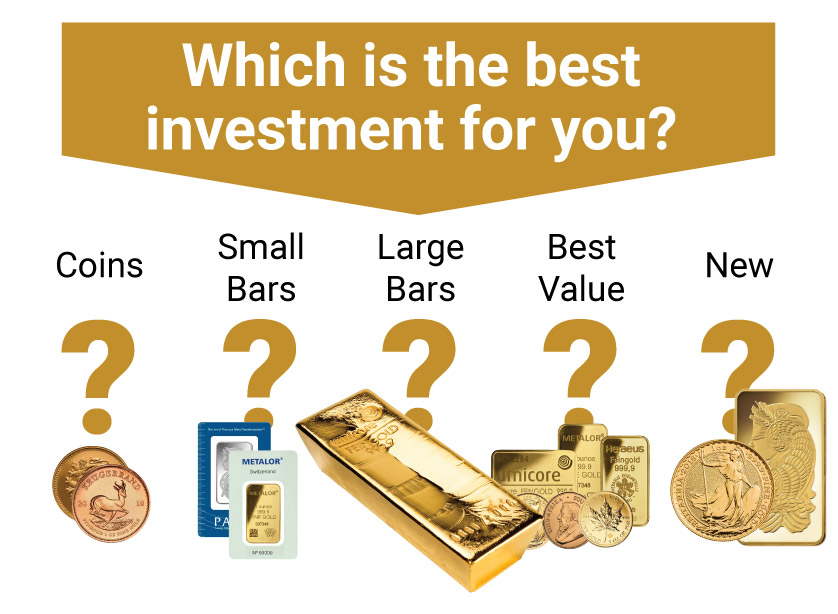 Knowing which metal to buy is a major decision. Gold has tax benefits over the 'white precious metals': silver, platinum and palladium. Gold is VAT free and British-made gold coins are exempt from UK Capital Gains Tax. Silver, platinum, and palladium bars and coins are all subject to VAT and only coins are exempt from Capital Gains Tax.
Our ' Ultimate Guide to Gold Investment ' provides more detail about tax on precious metals but for personal tax investment advice you should seek independent advice from a qualified adviser.
.
Getting the best price
Bullion dealers sell gold at a margin above the market price but the form the precious metal takes; bars of varying size, coins of various weight and denominations, also add to that basic market price. For example, buyers will pay far more per gram for gold in the shape of a single new Gold Sovereign than in a 1 kilo bar. This is because a single new coin attracts manufacturing, delivery and handling costs whilst the kilo bar is a more cost effective bulk purchase. Despite this buyers may prefer to pay more for the Sovereign because of tax issues, ease of selling and storage, plus they may not have the funds for the large bar or may simply appreciate the craftsmanship and beauty of the coin.
Ounce for ounce, precious metal bars are generally slightly better value than coins, with large bars giving the greatest value. The majority of our bars are sold brand new, though we do stress that some refiners are more costly than others. Our prices reflect their premiums but all bars are of equal quality and purity. We buy back purely based on the value of their gold content, rather than the branding, so we always advise going for the cheapest product.
.
Buying the best value coins
Coin collectors or numismatics may pay more for rare coins but generally new mint condition coins are, ounce per ounce, more expensive than pre-owned coins. For investors who do not mind which coins they own BullionByPost sell 'Best Value' coins. For example, buyers of best value one ounce coins will receive any denomination or year of one ounce coins that are held in stock. Similarly, buyers of best value Gold Sovereigns will receive Gold Sovereigns of any year or condition.
In addition to 'Best Value' coins, BullionByPost carry regular sales on selected bars and coins with discounts as high as even 20%. Registered customers receive regular news update emails highlighting these offers.
Seasoned and new investors, holding large or small amounts of precious metals, are all recommended to regularly review their portfolio and keep updated with bullion prices and news that may impact on the often volatile markets.