Low-risk investments
---
In a world of growing economic uncertainty, investors are clamouring for low-risk investments to protect their wealth, and precious metals like gold and silver could be the answer.
.
---
Low-risk investments 2019
.
The high-risk, high-reward nature of the stock market has grown too great for many investors to seriously consider in 2019. With the memory of the 2008 financial crisis still fresh in investors' minds a decade on, confidence in traditional investments is running low, and the ongoing US-China trade-war, as well as Eurozone economies stalling, is not helping matters.
Alternative, low-risk options like ISAs might seem an effective way to safely invest your money but, as BullionByPost have reported here, ISAs offer little to no return in real terms. When considering inflation, an ISA could even cost you money!
.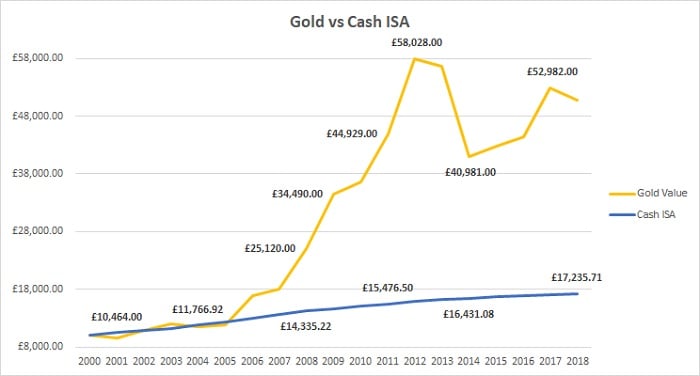 .
As the chart above demonstrates; a £10,000 investment put into an ISA, versus the same £10,000 put into gold, would have yielded significantly lower returns over the same period of time. Gold performed better and, in the long-term, with a much lower risk.

Even buy-to-let properties, considered a safe investment for years, are at greater risk than ever. High costs, recent legislation changes, and a property market that could crash at any moment have driven this investment avenue towards being much higher risk. Read more about Gold vs buy-to-let properties.
Other low-risk investments, like bonds and peer-to-peer lending, put you at the mercy of lenders defaulting. Although banks and financial institutions have safeguards in place, they can only do so much to protect against a company or individual that folds.
The real issue for any of the aforementioned low-risk investments is the low returns they garner. Even the best rate ISAs in 2019 have 1.5% annual interest rates. Investing £10,000 to only gain £150 at the end of a year seems a poor return for many investors, and many other low-risk investments offer similarly low returns. At the time of writing, a certificate of deposit (one of the lowest risk investments) with HSBC offers at best 0.85% AER/Gross!
For someone wanting a low-risk investment, but with the potential to make gains far above the other options, gold could be for you.
.
---
Low-risk investments UK
.

View our live gold price chart
The chart above shows the price of gold in Pound Sterling for the past 15 years. In that time gold has gone from £211 per ounce to a current price of £1,000 per ounce (and a peak of £1,177). Few other investment options can boast a 15-year gain of 457%, and those that could tend to entail much greater risks.
Gold's scarcity and incredible range of uses are fuelling a growing demand for the precious metal. Read more about why you should buy gold.
The price of gold is protected, and even bolstered, in more ways than many other investments. ISAs are not a limited commodity – banks can set up as many ISA accounts as they wish – and they are still ultimately controlled by those banks; if economies crash then the rates crash with it. No one will forget the scenes of customers queuing outside Northern Rock in 2007, desperate to withdraw their money; how low-risk would an ISA have seemed in those days?
Gold's price is therefore protected by both its finite nature and investor confidence. When economies are doing well, gold continues to perform well based on supply and demand from industry and general use. When economies crash, the price of gold does better, as investors flock to such a safe-haven asset, driving demand even higher than normal.
Gold's physicality should not be underestimated either. Owning physical gold is low-risk compared to any electronic fund. Even 'cash' in a savings account is electronic at its core, and is subject to the control of the bank or investment company that holds it for you. Gold that you can physically hold and store is always under your control, making it safer and easier to liquidate when the time comes to sell.
No investment is risk-free; legislative changes, political upheaval, or simple value fluctuations can all have some effect on how much money an investment could make, but gold can mitigate some of these risks.
The goal of any investor should be, ultimately, to have an investment portfolio that is diverse. The best way to reduce risk is to spread your money across several assets; this way, should one asset unexpectedly underperform, it will not put a large portion of your investment at risk. A diverse investment portfolio, that includes a physical asset like gold, is the best low-risk investment.