Owning gold bullion bars and coins
---
Physical gold gives buyers total ownership of their investment. It has long been recognised as a means of protecting wealth and hedging investment risk. In contrast to other forms of gold ownership, investors in the physical metal do not rely on banks, governments or financial trusts such as Exchange Trading Funds (ETFs) to administer or guarantee their investment.
There are specific issues with physical ownership that investors should consider however...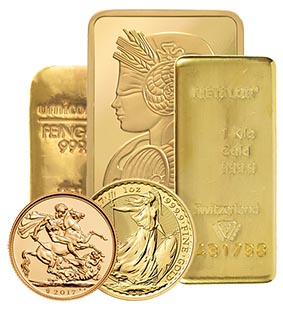 Owning gold
Anyone can legally own gold. Some investments must be declared for tax purposes but in many instances, particularly with modest investments, owners will have nothing pay. Our ' Ultimate Guide to Gold Investment ' provides more details on tax and bullion. It does not offer personal investment or tax advice. For this you should seek independent advice from a qualified adviser.
.
Gold value
With a high value and easy mobility, gold is unfortunately potentially a vehicle for money laundering and illegal transactions. G old can be melted down and reformed but its value remains the same, so it can be a target for robbers and fraudsters.
Bullion dealers have a legal obligation to ensure they sell only to identifiable, legitimate investors and they must record all of their transactions. They will require buyers to provide identification and will only deliver to the named buyer at their registered address. HM Revenues and Customs additionally requires companies such as BullionByPost to hold customer transactional information for several years to help protect against any such illicit behaviour.
.
Gold storage
Owners of precious metals should store them securely with specialist insurance, tailored to the ever-changing value of the metal markets. BullionByPost sell a range of home safes or, if you'd rather simplify the whole process, we also offer high security, insured and allocated storage solutions.
.
Proof of ownership
Due to money laundering legislation, bullion dealers hold records of transactions. Buyers can document their purchases and validate their ownership via a combination of a packing slip which comes with your goods, as well as with the invoice detailing exactly what you have bought, where from, and to what value.
.
Certification
Not all bullion comes with a certificate of authenticity. This is often restricted to proof coins, but some smaller bullion bars do come in sealed packaging with an assay card proving their origins.
All bullion bars sold by BullionByPost are sourced from LBMA (London Bullion Market Association) approved refiners, meaning that these companies are rigorously inspected to ensure they abide by quality regulations for their gold and silver, as well as adhering to employment rights and working conditions, amongst other requirements.
Bullion bars are hallmarked regardless of whether they come sealed or not. Ultimately, gold does not need certification , but we appreciate that it can be reassuring to customers. At BBP we have state-of-the-art equipment to test gold, silver, platinum and palladium - ensuring that all our precious metals, whether new or bought back, are of the correct weight, purity, and from a trusted producer.
If you are ever unsure of your precious metals or wish to discuss any queries, please contact our customer support team on 0121 634 8060 or via email at [email protected]