Precious metal investment coins
---
Precious metal coins are currently being minted as investment coins rather than circulation currency. The last gold circulation currency was issued in 1930's. Current legal tender investment coins have a face value far below that of their worth as metal. For example, the British Double Sovereign, with a face value of just two pounds, sells for in excess of £500. This is because it contains over fourteen grams of pure gold.
Legal tender precious metal coins are slightly more expensive to produce than bars of the same weight and this is reflected in their cost but coins enjoy tax advantages over the bars, which may justify this higher price.
In addition to investment or bullion coins, there are also rare, collectible or numismatic precious metal coins whose value will exceed both their face value and that of their pure metal value.
.
Precious metal coins
When considering precious metal coins investors generally choose gold, but silver, platinum and palladium are also available. In the UK gold has the advantage over other metals of being free from VAT plus gold coins are not not subject to Capital Gains Tax which is applied to both bars and coins in other precious metals.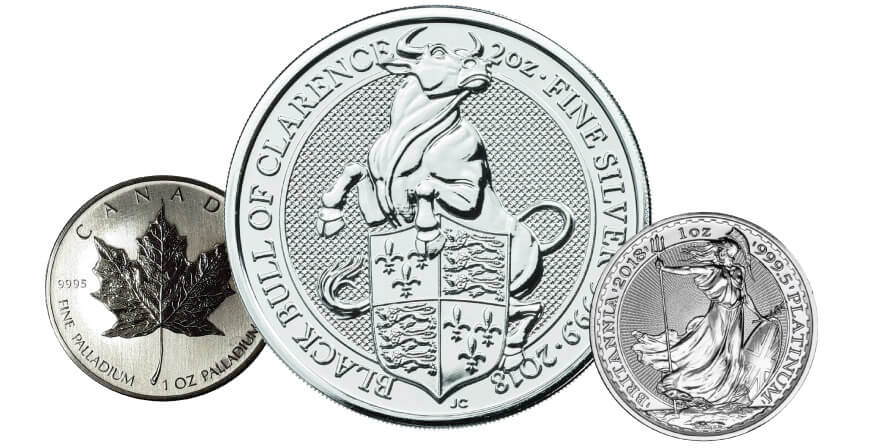 Despite the VAT advantage of gold over other precious metals, there are good reasons why other metals should be considered for investment. Silver and platinum are considerably cheaper than gold, while platinum and palladium are much rarer metals than gold. Plus, as pure metals, they are in greater demand from industry and technology and this constant state of demand allows for a greater degree prediction of market prices.
Due to the 20% VAT on precious metal coins other than gold, investors would need to achieve gains of more than 20% before breaking even. The market history shows this to be very achievable but only in the long-term. So, whilst including precious metal coins other than gold in a portfolio increases diversification and further spread any risk, these coins should view as a more long-term option.
.
Storage
Outside of the European Union, silver, platinum and palladium is not subject to VAT. Investors can, therefore, legally avoid VAT payment by buying and storing their coins outside of the Union.
For minimal fees BullionByPost offers investors a simple and easy to manage process for buying and storing VAT free silver 1oz (one ounce) Britannia coins or 1kg (one kilo) silver bars. These coins and bars are stored with Loomis International in Zurich, fully insured and regularly audited by Grant Thornton.
.
Investing in gold coins
There are many established gold coins that are worth an investor pursuing as an addition to their portfolio. The internationally renowned Gold Krugerrand is available in many weights and has been a successful investment since it was first minted in 1967. By 1980 it accounted for 90% of the world gold coin market.
The One Ounce American Buffalo, also known as the Gold Buffalo, is another internationally sought-after investment. Along with the The American Gold Eagle, also available in many weights, they are the preferred bullion coin choice in the United States.
From the UK, the Sovereign and Britannia have been continual market front runners, with the Sovereign retaining an historic interest following its prevalence during the time of the British Empire.
China joined other bullion minting nations in 1982 with the Panda, which is currently the only major bullion coin produced in decimal format - 30g, 15g, 8g, 3g, 1g - rather than in imperial units - 1oz, 1/2oz etc.
.
Investing in silver coins
Most of the eminent gold coins offer silver variants. These include the Krugerrand, Britannia, American Eagle and Chinese Panda. Also popular is the Silver Canadian Maple and, presently the only Euro denomination investment coin, the Austrian Philharmonic.
.
Platinum and palladium
Platinum and palladium coins are far fewer in variety and supply than gold or silver. The primary bullion versions are the Platinum Britannia and Canadian Maple.
The Pobjoy Mint, on behalf of the Isle of Man, have also previously minted a Platinum Noble.