916 Gold
---
916 gold refers to gold that is 91.6% pure - better known as 22 carat gold. 916 gold was for a long time one of the most popular purities, used in gold coins for hundreds of years, and is still used in some bullion coins today.
Pure gold is too soft and malleable for most practical applications, including circulating coins. These would be too easily damaged for day to day handling and trading. As such, many circulating coins – such as the British Sovereign – would have other metals added to make them tougher.
These coins would generally have copper mixed into them, with 91.6% being gold, and 8.4% being copper.
The purity of gold to other metal is more commonly measured using the millesimal fineness scale these days, as it is more accurate than the 24-part carat system. This is a thousand part scale where pure gold would be 1,000 and 916 gold is therefore an alloy of 916 parts gold to 84 parts of another metal.
24 carat gold is accepted as pure or 100% gold. However, the technological limitation of the current gold refinery process means that to date it has been impossible to make 1,000 fineness, 100% pure quality of gold. Instead most refiners get to 999.9%, while some have even achieved 999.999% fineness!
The London Bullion Market Association (LBMA) regulates standards for global trade in gold bullion. It prescribes 995 fineness as the minimum required purity in its 'Good Delivery' specifications. For most purposes 995 and greater is accepted as pure or 24 carat gold.
916 gold however is still used in many modern bullion coins, following tradition. This includes the British Sovereign, South African Krugerrand, and the American Eagle coins respectively.
.
---
What is 916 hallmark gold?
.
The UK 1973 Hallmarking Act requires all manufactured items containing over one (1) gram of gold to be hallmarked. Bullion gold coins are not required to be hallmarked, though some mints do choose to stamp the purity on the coin still.
The minimum hallmarks are an assay office stamp, the maker's mark, and the fineness. For gold items the fineness number is contained in an eight-sided shape. Jewellery and other gold items with the figure 916 hallmark are therefore 22 carat gold.
.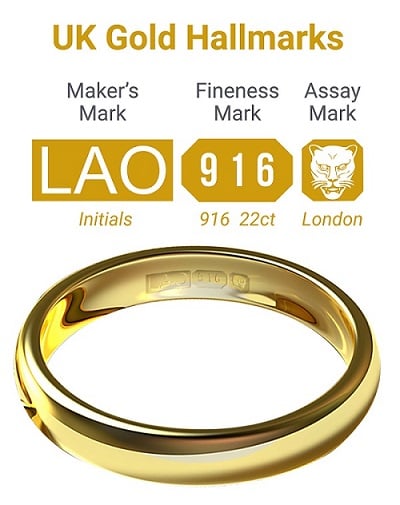 .
916 gold is accepted globally as the highest standard for jewellery, as anything purer would likely be easily damaged in most practical purposes. 22, 18, 14, and 9 carat are common gold standards used in the UK. Other nations have their own traditions for lower grades of gold. 10 karat is the minimum in the United States. Germany and some European nations go as low as 8 carat.
.
---
Buy 916 gold
.
The high gold content of 916 gold items gives it a dark, rich colour thanks to the introduction of copper. By comparison, 18 carat – 750 fineness gold – is slightly lighter. This is why it's often alloyed with silver.
916 gold is popular for Indian jewellery but is generally used in the UK only for more intricate design work. For practicality, most UK jewellery is made using more hard-wearing 18 carat gold, or 9 carat gold.
.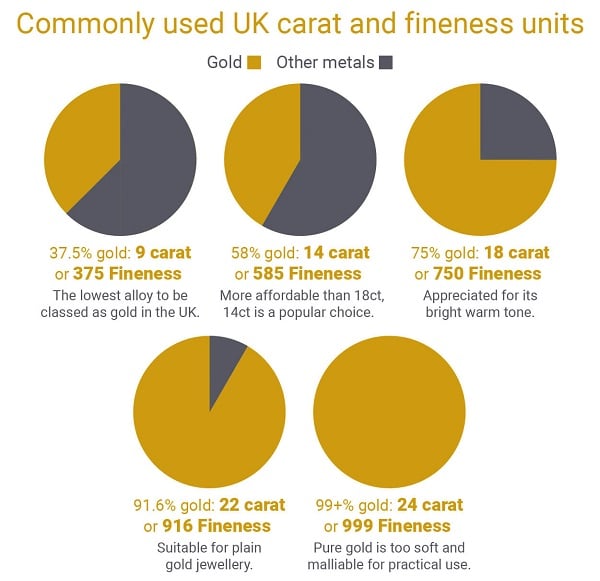 .
Gold investors generally choose pure, 24 carat, 999.9 fineness gold. Ounce for ounce of metal, the LBMA 'Good Delivery' standard provides the greatest amount of gold to weight. Bullion bars are virtually all 999.9 purity.
As mentioned above however, some of the world's most popular bullion coins are still struck in 22 carat according to tradition and many investors prefer to buy these 916 gold coins with their rich copper tint.
.


.
916 gold fineness is 22 carat

916 gold is 91.6% purity gold

916 gold is generally used for only for more delicate pieces