Gold quotes
---
Because of its beauty and extreme rarity, gold has had a significant place throughout human history. It has shaped civilisations, and changed world powers, and quotes have been made about gold over the ages.
Today, in the form of jewellery, it remains the most popular form human adornment. By far its biggest use is as an investment for both individuals, governments and financial institutions. These have stockpiled vast quantities as stores of wealth.
It is little wonder then that it is talked about and used in popular speech and literature. 'As good as gold,' 'golden boy,' 'heart of gold' and 'a gold mine of information' are all common phrases, but what do the leading thinkers and business men think about gold? Below are a selection of famous gold quotes, by economists, business leaders, and politicians.
.
---
'Gold is money. Everything else is credit.'
J. P. Morgan
John Pierpont Morgan Sr, 1837 – 1913, was an American financier, banker and proponent of gold investment. This is probably the most widely repeated financial statement on gold investment... but it's actually misquoted.
It was part of his statement to US Congress in 1912, and Morgan actually said ' That [credit] is an evidence of banking, but it [credit] is not the money itself. Money is gold, and nothing else.'
.
---
'Because gold is honest money it is disliked by dishonest men.'
Ron Paul
Ronald Ernest Paul, born 1935, is an American author, physician, retired politician and coin collector. He sought election as president on three occasions.
.
---
'I like gold because it is a stabilizer; it is an insurance policy.'
Kevin O'Leary
Author of 'Cold Hard Truth: On Business, Money & Life'. Kevin O'Leary, born 1954, is a Canadian politician and co-founder of the technology company 'SoftKey Software Products'.
---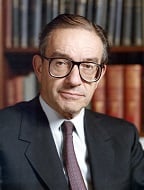 'In the absence of the gold standard, there is no way to protect savings from confiscation
through inflation. There is no safe store of value.'
Alan Greenspan
.
Alan Greenspan, born 1926, was Chair of the Federal Reserve of the United States from 1987 to 2006. This is the
second-longest term ever held in the position.
.
---
'A U.S. dollar is an IOU from the Federal Reserve Bank. It's a promissory note that doesn't actually promise anything. It's not backed by gold or silver.'
P.J. O'Rourke
Author of over 20 books, Patrick Jake O'Rourke is an American political satirist and journalist. The 71-year-old has written for the American Spectator and Atlantic Monthly, as well as being a regular contributor for The Daily Beast.
---
'Money is not something you just print. It must be backed by something, either good economy or gold.'
Mahathir Mohamad
Dr. Mahathir bin Mohamad was Minister of Malaysia from 1981 to 2003 and was returned to the office in 2018, despite having previously retired. At 94 he is the oldest sitting head of state - just under a year ahead of Queen Elizabeth II.
.
---
'I think anybody who is interested in keeping their money safe from the criminal banking system would want gold, silver, and Bitcoin.'
Max Keiser
Timothy Maxwell Keiser, born 1960, is a controversial author, broadcaster and financial commentator. He hosts 'The Keiser Report' on RT News and 'On the Edge'.
.
---
'Investing in gold is one of the wisest decisions that you can make as an investor.'
Fabrizio Moreira
Fabrizio Moreira, born 1982 in Ecuador, is a free marketeer, libertarian politician and popular music promoter.
.
---
'You'd be safe to hold 5% of your assets and savings in gold and silver. Insurance for the future.'
John Paul DeJoria
John Paul DeJoria, born in Greece 1944, is the billionaire and philanthropist founder of 'Paul Mitchell' hair products and 'Patrón Spirits Company'.
.
---
'We have gold because we cannot trust government.'
Herbert Hoover
Engineer, businessman, and politician, Herbert Clark Hoover, 1874 – 1964, was the 31st president of the United States from 1929 to 1933.
.
---
'Never trust money more than gold.'
Toba Beta
Toba Beta is an Indonesian author and poet. He has a master's degree in treasury and risk management.
.
---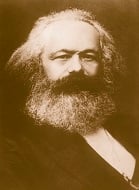 'Although gold and silver are not by nature money, money is by nature gold and silver.'
Karl Marx
.
Philosopher and economist, Karl Marx, 1818 – 1883, is both hugely admired and equally derided. Whatever your
view, his influence on world history is undeniable. His most famous book ' Das Kapital' ( Capital. A Critique of
Political Economy) is considered one of the most important political and economic works ever published.
.
---
'In these times of uncertainty for paper-based currency, I feel more secure in holding gold.'
John Paulson
Billionaire, John Alfred Paulson, born 1955, is a hedge fund manager, philanthropist and founder of Paulson & Co. Inc. He made his fortune in 2007 betting against sub-prime mortgages credit bubble.
.
---
'Gold will be around, gold will be money when the dollar and the euro and the yuan and the ringgit are mere memories.'
Richard Russell
Richard Russell, 1924 – 2015, was an American writer on finance and a bombardier on B-25 bombers during World War II. He published the authoritative 'Dow Theory Letters'.
.
---
'The desire for gold is the most universal and deeply rooted commercial instinct of the human race.'
Gerald M. Loeb
Gerald M. Loeb, born 1899, was a renowned Wall Street trader and author. Greatly influenced by the events of the 1929 Great Depression, today his books are widely read by financial professionals.