Are gold Sovereigns a good investment?
---
At just over 1/4 of an ounce of 22ct gold, and with a long place in British history, the Gold Sovereign is one of the most popular investment coins in the UK.
The British Gold Sovereign was first minted in 1817 as a legal tender one pound coin for circulation in society. Following the economic crisis caused by the cost of the Napoleonic wars, the British government reconstructed the coinage system based around a 'gold standard' - a designation of how much gold each piece of currency was exchangeable for.
The one pound or 20 Shilling Sovereign coin was introduced to replace the paper pound note used during the war. It was also issued to rival the Guinea coin, named after the Guinea region in West Africa, which had a curious value of 21 Shillings. The 1817 British Sovereign was based on the older English Sovereign dating back to 1489 - 1603.
.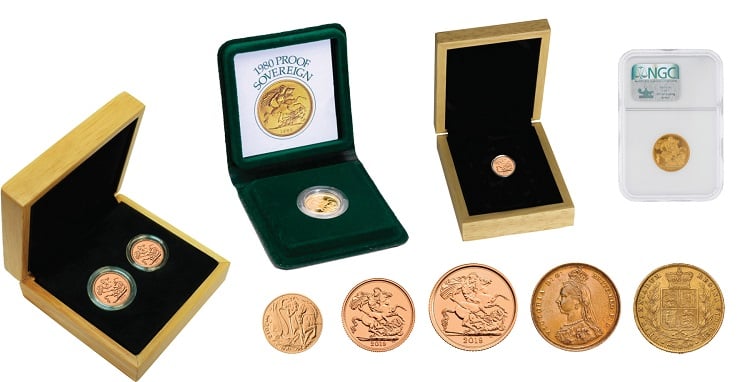 .
It was a hugely popular coin, not only in the UK but around world, as its gold content guaranteed its value, and besides the Royal Mint in England, was also struck in other British Commonwealth nations. Its use as common currency ended with the First World War as a paper one pound note took precedence.
As a much liked coin, and in answer to popular demand, the Royal Mint recommenced minting it as a legal tender bullion coin in 1957.
.
---
Sovereign design



.
The Sovereign reverse shows St George on horseback slaying the dragon. This iconic design, with some slight variations, has being used almost continually ever since. Half Sovereigns had a Royal Crest or 'Shield Back' reverse and this was also used on Sovereigns from 1820 till 1871. The Half Sovereign finally adopted the George and Dragon design from 1893 onwards.
Italian engraver Benedetto Pistrucci's original design for the 1817 Sovereign is in the neo-classical style which was popular at that time. It is likely to have been based on the early French 'Angelot' coin or the slightly later English 'Angel' coin, as produced during the reign of King Edward IV in 1465. These coins both showed the Archangel Michael (occasionally depicted as Saint Michael) slaying a dragon. This tale relates to Greek mythology and the tale of Perseus, but the story has inevitably evolved over the year. Michael slew a demon, then a dragon, then it was George killing the dragon.
Click here to read more about Sovereign Coin Designs, or learn about the different Sovereign Mint Marks.
---
Gold Sovereign investment




.
Owners of British gold sovereigns can be categorised as either numismatic, coin collectors, or financial, bullion investors. For numismatists they offer aesthetic and historical appeal. For Financial investors they offer a convenient store of gold, that, as British legal tender is exempt from Capital Gains Tax and also VAT free. Plus, a small allocation of British gold sovereigns can be a useful diversification in an investment portfolio.
Naturally, numismatists will be drawn to rarer historic coins, whilst bullion investors may choose best value, low-grade Sovereigns; priced at little over their pure gold value. Both types of investor will benefit from owning a world renowned coin with a ready and proven market to trade in.
BullionByPost stock a large selection of rare collectible coins, modern bullion and best value pure investment sovereigns, all at low margins with free insured delivery.
.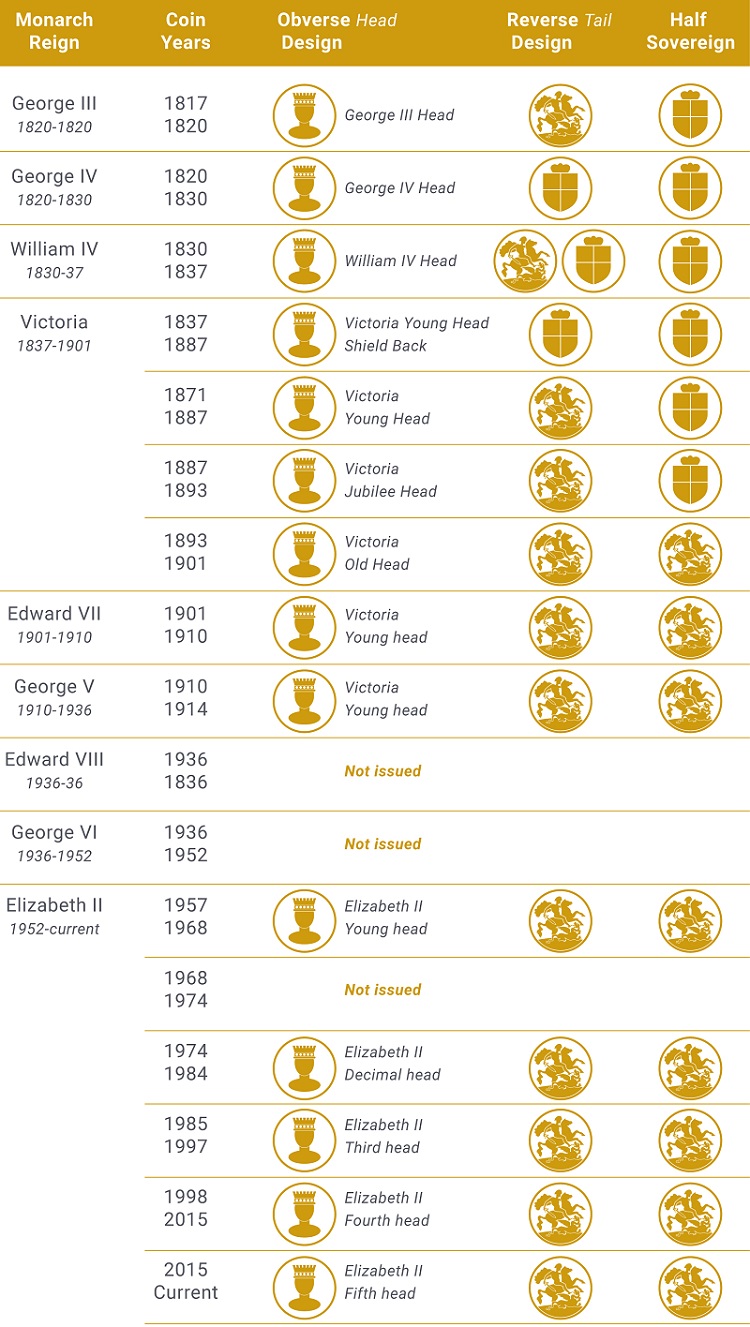 .
Rare Sovereigns




.
All Sovereigns will have a base value as pure gold bullion, but many collectible coins will far exceed this price. For example, the King George III 1819 Sovereign - of which only ten are now known to exist. As a result of their scarcity they command extraordinary prices, even when in relatively poor condition. In 2013, one of the finest examples was sold at auction for a staggering £186,000.
The 1859 Victoria 'Ansell' coin is another rare and sought after Sovereign. So named after a chemist, George Ansell, who, after experimenting with rejected sovereigns, developed the stronger alloy used by the Royal Mint in their production. Now less than 25 are known to exist. In 2012 a fine example sold for over £15,000.
Other rare examples are:
1908 Edward VII Ottawa Mint

1924 George V Pretoria Mint

1916 George V Ottawa Mint

1917 George V London Mint

1922 George V Melbourne Mint

1926 George V Sydney Mint

1921 George V Melbourne Mint

1923 George V Sydney Mint

1874 Victoria 'Young Head' Shield

1920 George V Sydney Mint
.
---
Gold proof Sovereigns




.
Proof coins were originally produced by mints as a test of quality and design before entering into mass production. These became very collectible and to satisfy the demand mints began to produce them in their own right, as beautiful limited edition, high quality coins for the collectors market. These are often double pressed to ensure a better than normal finish.
In recent times, the Royal Mint has produced proofs of all its gold British Sovereigns, often sold with certificates in display cases. A fine example is the 1989 proof Sovereign. This was issued to celebrate the 500th anniversary of the English Sovereign and was only ever minted as a proof coin. It has an unconventional design reflecting the original 1489 English Sovereign.
.
---
Half Sovereign & Quarter Sovereign




.
Alongside the British Sovereign, a Half Sovereign was also introduced in 1817. This 10 Shilling or half pound face value coin has basically followed the path of the one pound sovereign.
The Half Sovereign offers a very reasonably priced way into coin and bullion investment. The Half Sovereign has been so popular that in 2009 the Royal Mint added a new Quarter Sovereign, and both have a pure gold value far exceeding the original face values!
.