Is it a good time to sell gold?
The ultimate goal of any investment is to eventually sell and, hopefully, make some money. Gold and silver can differ slightly from this, insofar as they are typically used as a hedge or insurance against other markets crashing (check out the reasons to buy gold).
Some investors do however buy precious metals solely as a means for making money, and with the gains that can be made it's easy to see the attraction. If profits are the ultimate goal though, then selling at the right time is the most important factor. Many investors therefore ask us if it is a good time to sell gold? Below we explore what makes a good time to sell gold, and what to look for in general price trends.


---
Best time to sell gold?
The best time to sell your gold comes down to two factors: necessity, and the price of gold.
If you have been sitting on a gold investment for several years, the time could come when you need to release the value of it. A change in circumstances such as buying a house, taking that dream holiday, or retirement could encourage you to sell. While gold has an intrinsic value that has persisted throughout human history, it's worth is ultimately only realised when you sell. Buying a house with a few gold bars isn't going to happen in the current fiat currency system.
The second influence is when the price is right. The old adage of 'buy low – sell high' is as true for gold as it is for other markets. The problem with gold is that predicting the rises and falls is difficult. A look at the price of gold in the past 20 years (shown in the chart below) highlights the general trend upwards.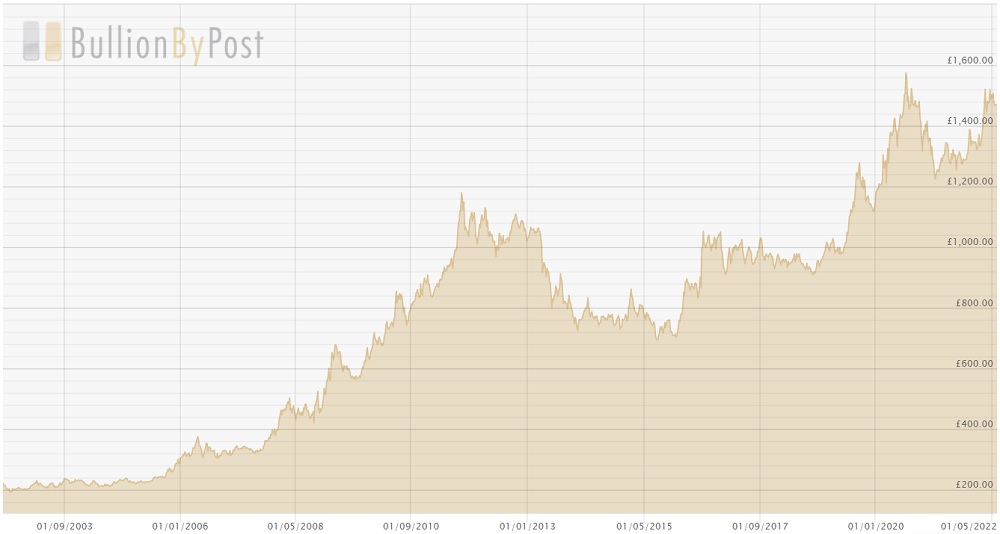 As shown in the chart above, gold remains close to it's all time high, though it has fallen back slightly from the record set in 2020. For those looking to sell at a high value then, now is still a good time to sell gold, without feeling like you have lost out on selling at it's peak.
For those who believe gold will continue to go up, they may choose to wait for a higher price. At BullionByPost however we always recommend selling when you it is the right time for you.


---
Is now a good time to sell your gold?
No one can be sure how the price of gold will move. The price fluctuates regularly depending on economic conditions and investor demand. To combat this we offer live price charts; updated every two minutes, and sourced from the London Bullion Market directly.
At BullionByPost we also have a gold forecast page to help our customers spot the broader trends and give you an idea of what could happen in the next few months, as well as regular updates in our Gold News section.
As a longer term investment, it should be remembered that the fluctuations in the price of gold can even out over the weeks. It is usually by waiting months or years that real returns can be made on your initial investments. Even the financial crash saw the price rise steadily over a two-year period, rather than a knee-jerk reaction.
The pandemic saw gold climb to it's record over a period of six months, and despite pulling back, has remained high still. Inflation fears and the economic fallout of the central bank response to it have become key drivers for the gold price, and forecasts suggest it could go higher yet.
The simple truth is that risk lies with the individual investor. As with any investment, timing is key. The way to perfect your timing when it comes to selling gold is observation. A combination of reading the news and checking market prices occasionally should be sufficient towards helping you make gains on your initial investment.
If think now is a good time to sell your gold, then BullionByPost would be happy to help. We offer market-leading rates on gold coins, bars, and scrap. Simply call the team on 0121 634 8060 who will be happy give you a quote based on the live gold price, and book your purchase order in.