Is the World Cup solid gold?
---
The current Fédération Internationale de Football Association (FIFA) World Cup trophy is commonly referred to simply as the 'World Cup'. As an iconic sporting trophy, rewarded for being the absolute best in the world, many people wonder whether the Football World Cup is made from solid gold.
Produced in 1971 by the Stabilimento Artistico Bertoni Company in Italy, the World Cup was designed by Italian artist Silvio Gazzaniga. The trophy depicts the figures of two athletes rising in spirals, stretching to receive the world. The compact body of the sculpture has a remarkable dynamic tension. This is meant to represent athletes at the stirring moment of victory.
The trophy is hollow and made of 18-carat gold, meaning that in most respects the World Cup is not solid gold. It does however contain a lot of gold, and would be incredibly valuable based on gold content alone.
.
---
The original World Cup trophy
.
The current trophy replaced the 1930 Jules Rimet Cup, which was made of gold-plated sterling silver. The Jules Rimet Trophy was originally called the Victory Trophy, and it was awarded outright to Brazil after their team won it for the third time in 1970.
This original cup was stolen whilst in England prior to the 1966 competition. It was then bizarrely recovered, when found by a mixed-breed Collie dog called Pickles. In 1983 it was put on display at the headquarters of Brazilian Football Confederation in Rio de Janeiro. From there it was again stolen but this time it was never recovered.
.
---
How much does the World Cup weigh?
.
The current World Cup trophy weighs 6.175kg and measures 36.8cm high by 12.5cm wide. It is hollow and made from 18-carat gold (750 fineness). This means it contains 4,927 grams of pure gold. The base is decorated with green malachite, a particularly beautiful gem.
.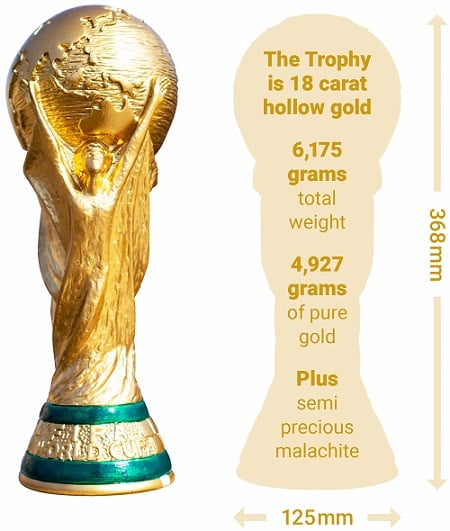 .
Assuming an average gold price of £35 per gram, the trophy would have a pure metal value of £172,445. However, in 2018, USA Today estimated its true total value at £15 million based on its unique design and cultural significance.
After each World Cup Final, the winner's name is engraved on the base. The winning nation does not get to take the trophy back with them however; instead they are given a bronze, gold-plated replica trophy. The original is then restored by the makers, and returned to FIFA.
FIFA keeps the present-day trophy under secure guard on display at its World Football Museum, in Zurich. Having lost the previous cup to robbery, it is little wonder that the museum is highly secure. It has one of the most complex security systems in the whole of Switzerland.
.