Karat gold
---
In the US, karat – referred to as carat in the UK – is a measure for the purity of gold. Pure gold is too soft and malleable for most practical applications. For most everyday purposes it is therefore mixed or alloyed with other harder metals. A high proportion of gold to base metal gives greater resistance to tarnishing and a brighter appearance, but it is also softer and more easily marked.
The high value of gold makes it important to know the gold content that has been used in manufacturing items such as pieces of jewellery. The proportion is commonly measured in karats or parts per 24. On this scale 24 karat gold is pure gold, 22 karat gold is 22 parts gold to two parts another metal, and 18 karat gold - 18 parts gold to six parts another metal.
Somewhat confusingly the US does also use carat, but as a measurement for gemstones rather than gold. In the UK, carat is used for both.
.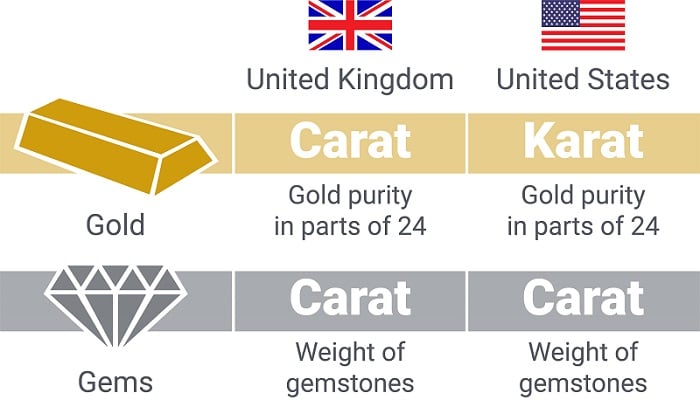 .
---
What karat is pure gold?
.
24 karat gold is accepted as pure or 100% gold. In truth, the technological limitations of the current gold refinery process means that to date it has been impossible to make 100% pure gold, but refiners have gotten very close.
An alternative to the 24-part karat or carat gold purity measurement, is the fineness scale. This is a millesimal or thousand-part scale. It is a more accurate measurement and is gradually being used more extensively in the bullion market.
Using the millesimal fineness scale, 999.999 is the purest gold ever made. This was produced by the Perth Mint in 1957. Commonly referred to as six nines fine, it has since been used by the Royal Mint and around the world as the ultimate yardstick for gold purity.
The London Bullion Market Association (LBMA) regulates standards for global trade in gold. It prescribes 995 fineness as the minimum required purity in its 'Good Delivery' specifications. For most purposes then 995 or above is accepted as pure or 24 karat gold.
.
---
Common UK grades of gold
.
9, 14, 18 and 22 carat gold are commonly used grades of gold in the UK, with 24 carat being reserved for investment grade gold coins and bars. Other nations have their own traditions; 10 karat is the minimum in the United States, while Germany and other European nations go as low as 8 carat.
.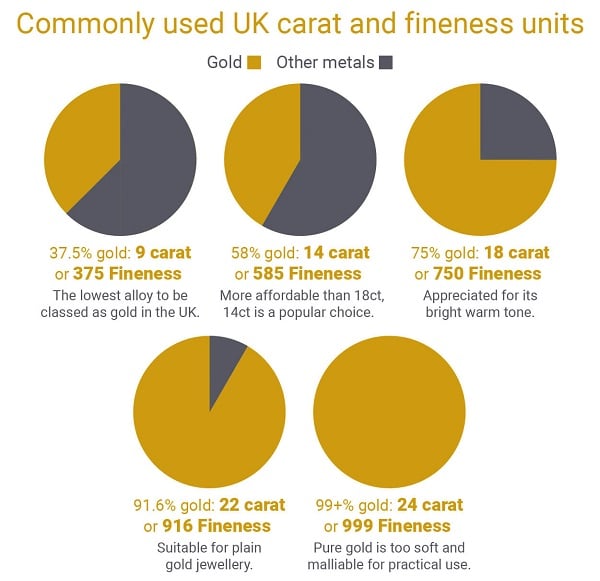 .
In the UK, the 1973 Hallmarking Act requires all manufactured items containing over 1 gram of gold to be hallmarked. The Act does not cover gold coins and bullion bars, though many still choose to stamp the purity on the items.
The minimum hallmarks are an assay office stamp, maker's mark and the fineness. For gold items the fineness number is contained in an eight-sided shape.
.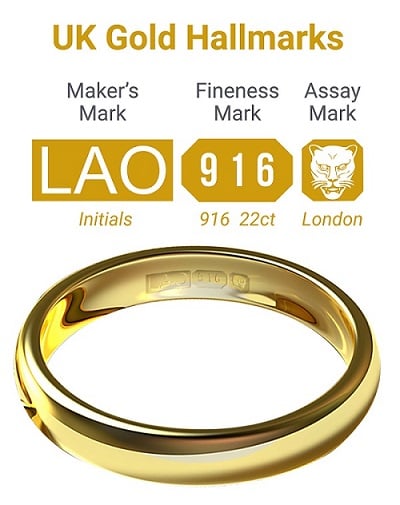 .
---


.
Karat is a measure of gold purity

Karat is a 24-part scale

24 karat is pure gold

995 fineness is accepted as pure gold

Karat is spelled carat in the UK