Gold demand
---
Being the key driver of gold prices, many investors take a keen interest in gold demand trends. As a physical commodity, gold is ultimately priced by supply and demand, so understanding gold demand can be a good way to spot buying or selling opportunities.
If there is high supply, prices will come down, as mines and refiners look to sell the gold they have. If there is a sudden surge in demand, and supplies begin to fall, then these same companies can then sell at higher price. This then feeds into the gold spot price – the cost to buy gold for consumers, or how much they can get when they sell.
.
---
Demand for gold
.
Demand for gold often overlaps with gold supply, which is in turn a combination of gold mining and recycling.
There is currently 197,576 tonnes of gold above ground as a result of gold mining operations, and an estimated 54,000 tonnes of gold left to be mined. This means supplies are finite, and only 20% of the Earth's supply remains untapped. According to World Gold Council figures, mines produce about 2,500 and 3,000 tonnes a year. This means that, without some significant new discovery, gold supply from mining will begin to run out in the next 20 years.
This means gold supply will become totally reliant on recycling; melting down old or scrap gold and turning it into more useful items. It could also indicate that unless demand drops, there could be a significant increase to the gold price in the future.
Demand for gold comes from several sectors; jewellery, central banks (gold reserves), investment bars and coins, ETFs, and manufacturing. It is this diversity in demand that helps gold hold its value. As a useful metal in electronics, gold will continue to be needed in circuit boards. As a hedge, it will always be in demand from investors and central banks who are looking to protect their wealth.
.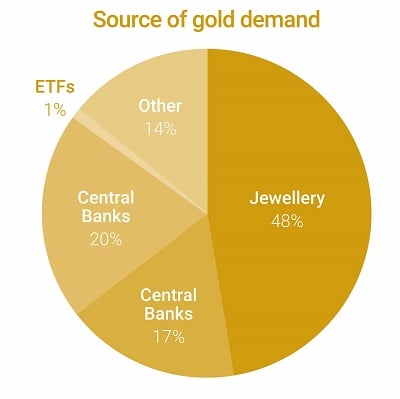 .
Working out the demand for gold nationally is difficult, as there are different ways of measuring it, but China and India are generally considered to account for the greatest gold demand.
China and India are significant not just for their total demand numbers, but also the growth in these figures. In the early 1990s, China and India together accounted for just 25% of demand, but this has now climbed to 50%. This surge in demand for gold stems from the significant economic growth the two countries have experienced in the past decade. This has given consumers more opportunities to buy the jewellery ingrained in the two countries cultures, and explore private investment too.
.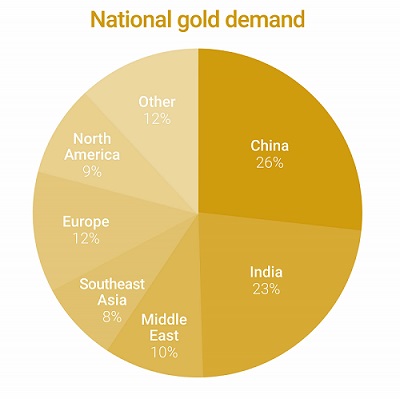 .
---
Gold demand 2020
.
Accurate figures for gold demand in 2020 won't be released until the start of 2021, but it is possible to speculate on what could happen this year.
Gold demand has been relatively flat for the past ten years, but unsurprisingly there is something of a correlation to the gold price, as seen in the chart below.
.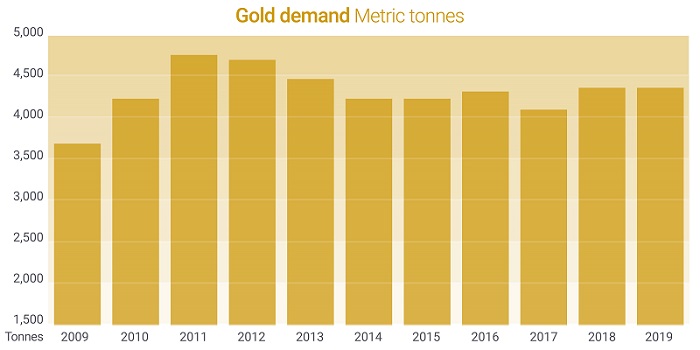 .
Gold demand increased the most following the financial crisis. Prior to this, gold had been in a bear market, and many countries had sold their gold reserves. As the financial crisis dragged on, gold demand grew, peaking in 2011 – the same year the gold price hit the Dollar record. Since that time, despite prices coming down, demand has remained relatively strong. Central banks now have renewed faith in gold reserves, and private investors have a very recent reminder of how fragile a fiat currency economy is.

With the global economy slowing down in the past two years, demand has increased again slightly. 2019 did see a small drop of 1%, largely driven by the two main consumers. With the Dollar getting stronger, both China and India's local currencies dropped against the Dollar, pushing the price of gold up. In India this resulted in an all time high for gold in Rupees. This high price reduced demand from China and India.
As mentioned in our 2020 gold price forecast however, economic slowdown is still a risk this year, especially in light of the Covid-19 outbreak. This could see demand increase at investment level, as people turn to safe havens rather than risk stocks in companies that will undoubtedly be impacted by the manufacturing shutdown in China.
Central bank purchases could also continue to be a key driver of gold demand in 2020. China, for example, spent several months in a row adding significant amounts of gold to their reserves. With many countries on the brink of recession they could diversify to gold in a bid to strengthen their national finances, which would in turn drive gold demand higher in 2020, potentially even to a record.