Gold demand
Being the key driver of gold prices, many investors take a keen interest in gold demand trends. As a physical commodity, gold is ultimately priced by supply and demand, so understanding gold demand can be a good way to spot buying or selling opportunities.
If there is high supply and low demand, prices will come down, as mines and refiners look to sell the gold they have. If there is a sudden surge in demand, and supplies begin to fall, then these same companies can then sell at higher price. This then feeds into the gold spot price – the cost to buy gold for consumers, or how much they can get when they sell.


---
Demand for gold
Demand for gold often overlaps with gold supply, which is in turn a combination of gold mining and recycling.
There is currently and estimated 197,576 tonnes of gold above ground as a result of gold mining operations, and an estimated 54,000 tonnes of gold left to be mined. This means supplies are finite, and only 20% of the Earth's supply remains untapped. According to World Gold Council figures, mines produce about 2,500 and 3,000 tonnes a year. This means that, without some significant new discovery, gold supply from mining will begin to run out in the next 20 years.
This means gold supply will become totally reliant on recycling; melting down old or scrap gold and turning it into more useful items. It could also indicate that unless demand drops, there could be a significant increase to the gold price in the future.
Demand for gold comes from several sectors; jewellery, central banks (gold reserves), investment bars and coins, and manufacturing. It is this diversity in demand that helps gold hold its value. As a useful metal in electronics, medicine and more, gold will continue to be needed throughout the years. As a hedge, it will always be in demand from investors and central banks who are looking to protect their wealth.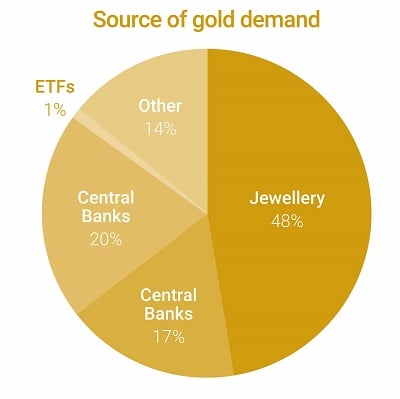 Working out the demand for gold nationally is difficult, as there are different ways of measuring it, but China and India are generally considered to account for the greatest gold demand.
China and India are significant not just for their total demand numbers, but also the growth in these figures. In the early 1990s, China and India together accounted for just 25% of demand, but this has now climbed to 50%. This surge in demand for gold stems from the significant economic growth the two countries have experienced in the past decade. This has given consumers more opportunities to buy the jewellery ingrained in the two countries cultures, and explore private investment too.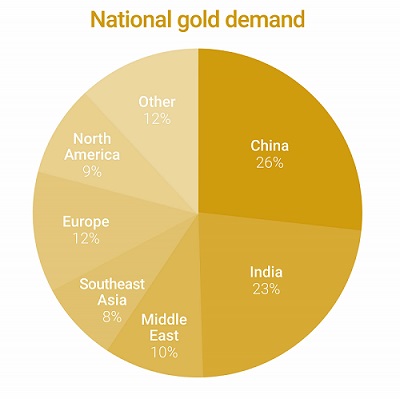 ---
Gold demand 2022
Accurate figures for gold demand in 2022 won't be released until the start of 2023, but it is possible to speculate on what could happen next year.
Gold demand has risen significantly in 2020 and 2021. The global pandemic has seen investors clamouring for gold bars and coins as a way to protect their wealth, at times stretching supply, and pushing the gold price to a new all time record in August 2020.
Countries like India and China were severely affected by the pandemic however, with many consumers ill or facing financial challenges. This saw the huge demand for jewellery in both countries fall somewhat, offsetting some of the increased demand from investors.

Central banks also suspended purchasing gold reserves in 2020, as central banks focused on helping their economies through the unprecedented impact of the pandemic. 2021 has already seen some central banks resume gold reserve purchases however, adding significant demand.
Gold demand for 2022 then is expected to rise further. Economies so far look to be re-opening with some success as vaccination rates and natural immunity builds up in the population. Inflation/stagflation meanwhile should drive investor demand even higher, as people seek a way to protect their wealth from devaluation. Read our gold price 2022 forecast, for further information on gold demand next year.