HUI Index
---
The HUI index is officially known as the New York Stock Exchange (NYSE) Arca Gold BUGS Index. The long-winded name could be longer however, as the BUGS index is itself an acronym for 'Basket of Unhedged Gold Stock'.
The HUI index tracks the performance of a number of companies involved in gold through the mining process.
It is often referred to solely by its stock market ticker symbol – HUI. A ticker symbol is an abbreviation for a stock or commodity traded on a stock exchange or an index used on the exchange. It is derived from the time when stock information was carried on telegraph ticker machines, and required information to be compressed to allow for fast communication.
.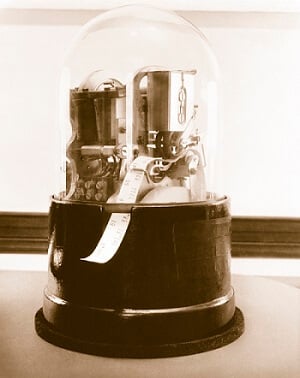 A classic 1920s stock ticker with a glass dome. Stock tickers were specialized telegraphs that conveyed stock prices.
NYSE Arca is a fully electronic securities exchange that trades in exchange-traded funds (ETFs), exchange-traded notes (ETNs) and exchange-traded vehicles (ETVs).
BUGS or HUI shows how companies involved in gold are performing on the New York Stock exchange. It is similar to the Dow Jones U.S. Mining Index (DJPM), the S&P Metals and Mining Select Industry Index (SPSIMM) and the Philadelphia Gold and Silver Index (XAU).
.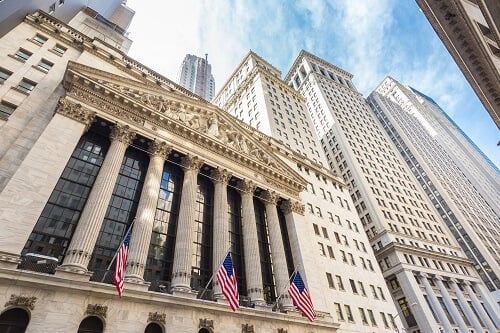 The New York Stock Exchange buildings.
Launched in 1996, the BUGS/HUI index differs from all the aforementioned indexes by only including information from gold metal and mining companies that hedge their gold production for less than one and a half years.
Hedging gold production beyond 1.5 years means that those companies have agreed advance prices for their products beyond 18 months, whereas HUI companies have not. Therefore, the HUI index is more volatile, and quickly reflects short-term market performance. This is useful for investors seeking significant exposure to near-term movements in gold.
.
---
HUI gold index
.
The HUI index monitors a list of the 16 largest gold production companies. The list is weighted to give greater account to the three companies with the greatest market capitalisation. The whole list is updated quarterly. As mention above, all the 16 companies included do not hedge their funds for longer than 18 months.
.
---
Physical gold versus paper gold
.
Gold and precious metals have historically provided a safe haven investment. They are also used to diversify a portfolio, and as a hedge against high-risk investments such as stocks and shares.
Investors in gold have a choice between holding the physical metal or so called 'paper gold'. Paper gold is typically shares in gold producers, gold miners and Exchange Traded Funds. Exchange Traded Funds or ETFs are, in principle, shares of physical gold held in a fund.
The HUI index can follow similar trends to the gold spot price, but as it trades on company shares there can be differences. Trading against the HUI can bring quick profits, but there are drawbacks versus making a physical investment. Investing on indexes through ETFs will require investors to pay a fund management fee, this will typically be between 0.75 and 1.75%. They also lose the total ownership of their investment that is given with physical gold.
One of the biggest drawbacks to the HUI index is that investors in EFTs and mining shares are also exposed to counter-party risk, particularly from government legislation and policies. They must put their trust in both the fund managers and each mining company's management. For example, should a mining company's licence granting mining permission be revoked, it can have significant and immediate impact on its shares. For many gold investors the increased risk of the HUI index negates one of the major benefits of precious metal investment.