Platinum melting point
---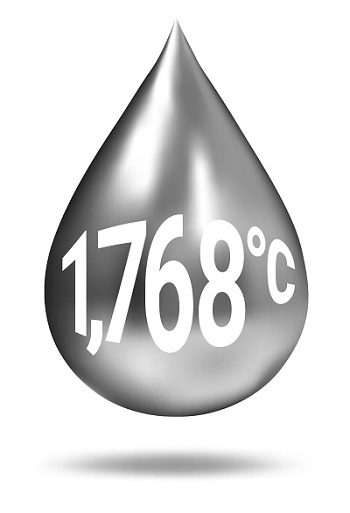 Pure platinum has an incredibly high melting point of 1,768 °C (3,214 °F). This puts it much higher than gold or silver, which both have melting points around 1000 degrees Celsius. This high resistance to heat is just one of the reasons it is suitable for use in catalytic converters in the petrol engines of cars.
.
What is the melting point of platinum?
.
Platinum has been known of and used for centuries, but was considered 'unmeltable' by scientists for years. Even in the fifteenth century, when Italian physicist Julius Scaliger named the metal 'platina' ('little silver'), he made note of the fact it wouldn't melt.
It wasn't until the late 17th century/early 18th century that processes were improved enough to produce heat sufficient to finally melt platinum. This was originally done in France, using mirrors, focused lenses, and combined with a pure oxygen delivery system. Later, German chemist Wilhelm Heraeus discovered a way to superheat platinum reliably, and founded the W.C Heraeus First German Platinum Smelters company. The family business still exists today and at BullionByPost we are proud to take advantage of their precious metal expertise with a wide range of Heraeus bullion products.
Pure platinum is very soft and is often mixed with other metals to improve its durability. Only platinum bullion, such as coins or bars, use 'pure' 999.5% platinum.
.
For platinum alloys, depending on the metal mixed with it, the melting point will change accordingly. One of the most common alloys for platinum is a mix with iridium. This is typically done at rates of 5%, 10%, and 15% iridium to platinum but, because of iridium's even higher melting point of 2,454 degrees Celsius, this has the effect of increasing the alloy's melting point. These platinum alloys have melting points as follows:
15% Iridium-Platinum = 1,821 °C
10% Iridium-Platinum = 1,788 °C
5% Iridium-Platinum = 1,779 °C
.
Platinum boiling point
.
Given its already high melting point, it should come as no surprise that platinum also has an incredibly high boiling of 3,825 °C or 6917 °F! This is over 1000 degrees hotter than the temperature at which gold boils.