How to clean tarnished silver
---
You may be surprised, and possibly amazed, at the effects of cleaning tarnished silver pieces. What may appear to be pure scrap can instead be transformed into a prized possession. It should be noted however that cleaning old collectable coins could negatively affect the value of your item. We'd recommend reading our page about why you shouldn't clean old coins before making any attempts to do so.
Using the wrong cleaning methods can damage silver, or the other materials that are often contained in silver items. In particular old or antique items require plenty of care during cleaning. Knowing a little about the silver tarnishing process can reduce the risk of causing any damage.
.
---
Silver tarnish and patina
.
Tarnish is a thin layer of dull, grey, or black corrosion that can form on several metals and – in this case – silver items. For silver this is caused by hydrogen sulphide in the air, which it reacts with. Unlike rust, it is superficial, affecting only the top few layers of material and actually protects the underlying metal.
Silver of .999 fineness (pure silver), does not easily tarnish, so investment silver such as coins and bars will likely resist tarnishing. Almost all other silver articles are made from silver alloys, such as Sterling Silver; and generally the less pure the alloy, the more susceptible it is to tarnish.
.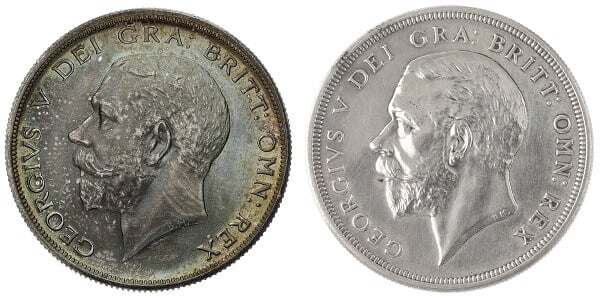 Two George V silver Crowns; the left has tarnished (discoloured), the right has only a few signs of tarnishing.
Silver can tarnish very quickly, and its sudden appearance can be alarming. Egg, vinegar, perfumes, perspiration, onions, peas, olives, salt, wool, skin oil and fruit juices can all tarnish silver immediately upon contact, due to the sulphur they contain.
Over time, if tarnish is not removed completely, it forms dark areas in small creases and recessed areas. These are then termed a "patina". New silver, or silver articles that have been restored by cleaning processes, are bright and mirror-like. In contrast, old, cared-for or polished silver with a patina, has a rich and warm finish. This patina finish is sometimes preferred, particularly on antiques and historic numismatic coins. While a bright mirror finish may be more suitable for silver jewellery.
.
---
Silver cleaning options
.
Dishwashers are not recommended for cleaning silver. The high temperatures and abrasive chemicals are not suitable for silver.
Good condition silver, or silver that is slightly tarnished, may only require washing with phosphate-free soap and warm water – after which it should be carefully dried.
Decaying flowers and fruits can leave pit marks in silver. For this reason, any silver dishes used for such items should be emptied, washed, and dried thoroughly after every use.
.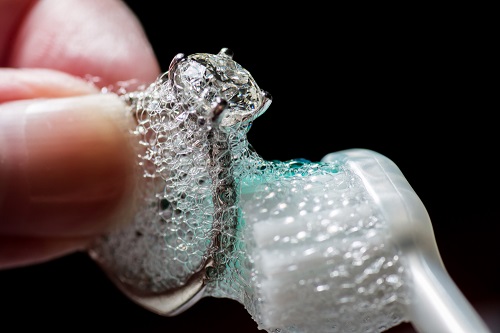 Phosphate-free soap and water is a simple way to clean and maintain silver already in a good condition.
Besides washing and cleaning, the two more aggressive methods for removing tarnish are polishing and dipping. Dipping removes the patina, which would otherwise remain with gentle polishing.
.
---
Polishing silver

.
Use a gentle, specifically made, silver polish (or other recommended materials) and a clean, soft cloth.

Do not use a dipping liquid, or multipurpose cleaner.

Never use abrasive scouring pads or steel wool.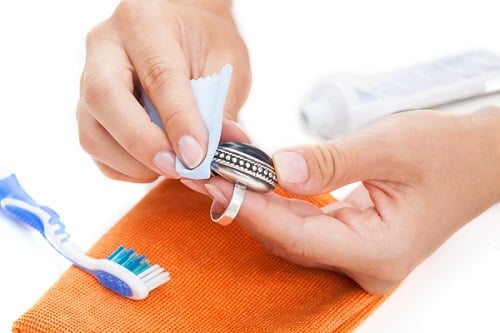 Gentle polishing will maintain silver with an appealing patina.
Do not rub too hard when polishing.

Use even, straight rubbing strokes, not circular motions.

After polishing use another clean, soft cloth to remove the polish. Again, remembering not to rub too hard, and use straight strokes.

In addition to silver polish you may try corn-starch (mixed with a little water), hand sanitiser, or window cleaner. Another method is to try gently brushing with ketchup or toothpaste.

After polishing, wash and thoroughly dry your silver.




.

---
Dipping silver
.
"Dipping" should restore silver to a nearly new, sparkling, appearance.
When dipping, great care should be taken with mixed material items. Materials other than silver, such as plastic and mountings for gems and pearls, could be damaged. Silver items are also commonly soldered together, and the solder could also be damaged or weakened by dipping.
In addition to specifically made silver dipping agents, there are many liquids that can be used for a cleaning dip. These include; submerging in lemon-lime soda for an hour, a few minutes in dilute laundry detergent, or even Coca-Cola.
.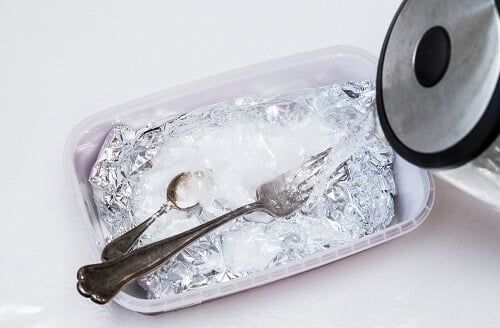 Dipping in a bowl of sodium bicarbonate and hot water lined with aluminium foil should bring silver to a sparkling finish.
One popular dipping method uses baking soda or sodium bicarbonate, and aluminium foil. To follow this method;
Line a bowl with aluminium foil – silver/shiny side up.

Pour in a litre of boiling water, and stir in one tablespoon of sodium bicarbonate.

When this has dissolved use tongs to drop in the silver items. You should see a chemical reaction taking place, which attracts the tarnish to the foil. The pieces should not be left in for too long – even ten seconds in the mixture may be enough.

Once the articles are tarnish free, use the tongs again in order to remove them from the hot liquid. Do not touch them until they have cooled!

If the silver objects are still tarnished, the whole process can be repeated. Once they are free of tarnish, they should be washed and dried thoroughly.
By occasionally maintaining your silver you can ensure that it remains tarnish free for many years. BullionByPost buy back scrap silver at competitive rates.