Largest silver mine in Australia
---
The largest silver mine in Australia is the Cannington underground mine in north-west Queensland. It is Australia's largest dedicated silver producer. As well as producing silver, Cannington also excavates lead and zinc. It is owned by South32, which is a newly formed division of previous owners BHP Billiton.
A feasibility study expects Cannington to have a lifespan of 25 years. The mine was opened in 1997, and the first small amounts of ore were processed in 1999. Based on these estimations, the Cannington mine has about four years of viable mining left, though estimation technology and mining equipment have both since improved.
.


The Cannington mine facility. Image courtesy of Google Maps.
For a long time, Cannington was the world's leading silver producer. In 2013 it was also the world's biggest single silver producing mine, and in 2005 it excavated a record 1,247 tonnes of silver in one year. Since then, output has dropped significantly, recorded at 517 tonnes in 2016, and it has now fallen to fourth place in world silver mine rankings.
.
---
Where is silver found in Australia?
.
In 2017, Australia was the world's eighth-largest silver producer, with an output of 1,200 tonnes. While ahead of the US, it is behind Mexico, Peru, China, Russia and Poland.
Despite being relatively low on the world production ranking, Australia is believed to have the world's largest reserves of silver deposits, which according to Geoscience Australia is far greater than any of the leading producer nations. Australia is also amongst the world's top producers and exporters of coal, uranium, copper and gold. This harks back to the days of the Australian gold rush, which saw large deposits of precious metals discovered in the previously untapped country.
.


Prominent Hill open cast mine, South Australia is owned by OZ Minerals. It produces copper, silver, and gold.
Silver is rarely mined in its own right. According to the Silver Institute, only around a quarter of all the ounces of silver mined in 2018 came from dedicated silver mines. Globally, only 6 of the biggest 20 producers are primarily silver mines; instead silver is usually one of several precious metals that are mined in batches.
The majority of Australian silver is a by-product of uranium, gold, zinc, and copper mining. The feasibility of silver mining is then equally dependent on the commodity prices of these precious metals. For example, Hilton Mine in north west Queensland has been held in abeyance (a temporary suspension) since 2002 - waiting for favourable market conditions to improve the feasibility of the remaining deposits.
Pure silver therefore comes not directly from mines. Instead, large amounts of unprocessed ore are sent to smelters or refiners to be purified. The largest Australian silver smelter and refinery is Port Pirie in South Australia. Silver is also refined at gold refineries in Perth, Kalgoorlie and Melbourne, with the Perth Mint then striking silver coins.
.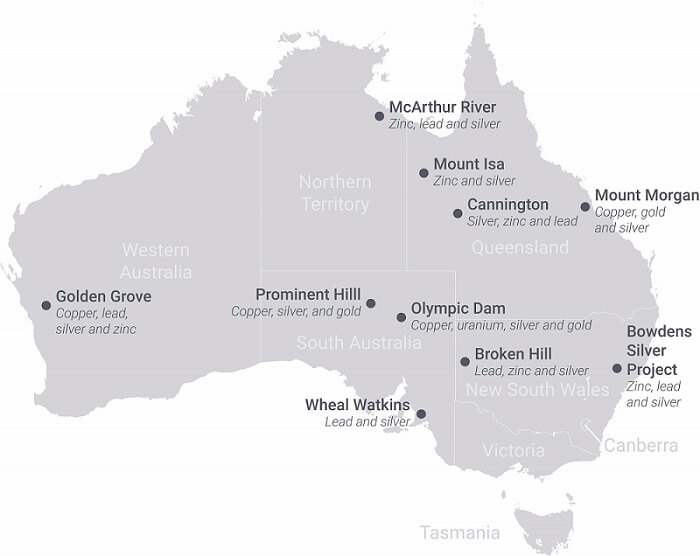 .
In addition to Cannington there are open cast and underground silver mines, across much of Australia:
.
| | | | |
| --- | --- | --- | --- |
| Mine | Metal Output | Location | Owner |
| Wheal Watkins | Silver & Lead | South Australia | Glencore |
| Broken Hill | Silver, Lead & Zinc | New South Wales | Perilya Limited |
| Mount Isa | Silver & Zinc | Queensland | Glencore |
| Cannington | Silver, Lead & Zinc | Queensland | South32 |
| McArthur River | Silver, Lead, & Zinc | Northern Territory | Glencore |
| Bowdens Silver | Silver, Lead & Zinc | New South Wales | Silver Mines |
| Golden Grove | Silver, Lead, Zinc & Copper | Western | EMR Capital |
| Mount Morgan | Silver, Gold & Copper | Queensland | Norton Gold Fields |
| Olympic Dam | Silver, Gold, Copper & Uranium | South Australia | BHP |
| Prominent Hill | Silver, Gold & Copper | South Australia | OZ Minerals |
.