Silver futures
---
Silver futures contracts, more simply referred to as silver futures, are binding contracts to buy and sell silver at an agreed price on an agreed date. Silver futures are traded in large-scale, high volume amounts of silver, and are used for hedging by manufacturers, or for speculating by traders.
Someone who buys a silver futures contract is agreeing to pay for and take delivery of the silver at the agreed expiry date.
Someone who sells a silver futures contract is agreeing to provide and deliver the items on the agreed expiry date.
Futures contracts ignore the market price at the time they expire, and rely on the pre-determined price agreed when the contract is made.

A futures contract is standardised to make it easy to trade; for silver, this strictly means either a 1,000 ounce contract or a 5,000 ounce contract.
The reason for a pre-determined price is hedging, a term we referred to in the intro. This relates to 'hedging your bets' and is about protecting your wealth and minimising potential losses.
By opting in to a futures contract, a mining company looking to sell silver can guarantee a sale price for them.

By opting in to a futures contract, a manufacturer buying silver knows what price they are going to pay in advance of delivery.
The benefits for both parties are reduced risk if the price suddenly and significantly goes up or down at the time of the sale.
.
---
How a silver futures contract works
.
Although it might sound complicated, and can be difficult to do profitably, futures are fairly simple in principle.
A mining company knows their output for the year will be 10 tonnes of silver, and will be ready to deliver in 12 months' time. If silver is currently £15 per ounce, then the company has two options:
They might feel that in a year the silver price will have risen, and choose to wait and sell their product at that later time.

They might also feel that the price could drop in the coming months, and that £15 per ounce is a good price to get for it now, while they can. In that case, they would sell the 10 tonnes as a futures contract, guaranteeing the price, and gambling they will be better off for having done so in a years' time.
For traders who are looking to speculate on silver futures, the aim is not to take delivery of the goods. They are simply playing the market and attempting to predict price changes.
They buy the futures contract, paying a small portion of the total price upfront (this is known as an 'initial margin payment'). This gives them technical ownership of a set amount of silver.

They can then sell this contract early, so long as this is done before the expiry date. If the price of silver goes up they can sell it at a higher price, if it goes down however they can close the contract early and take a loss.
When negotiating the price, the trader might "short" the price, in the belief it will have gone down in the future. They might also go "long" on the price, believing the price will be higher by the end of the contract. Ultimately this kind of speculation puts trading silver futures back into higher risk territory that goes against the safe haven appeal of silver as an investment.
.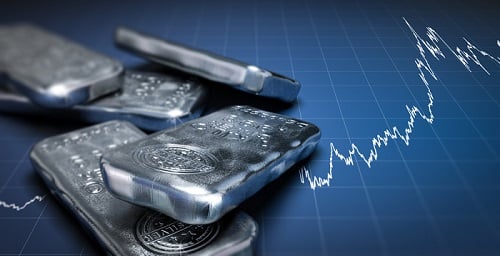 .
Silver futures contracts are traded in their own right on silver derivatives markets. The silver derivatives markets are separate from the silver commodities market (where physical silver is traded), and futures prices by their very nature do not exactly follow the commodity market's movement.
The world's two largest derivative markets are the Chicago Mercantile Exchange (CME / Comex), and New York Mercantile Exchange (NYMEX).
Access to the markets is granted only through authorised trading intermediaries, and is not directly available to private investors. Individuals can gain exposure to futures, but this is done through brokerages such as hedge funds, exchange traded funds and other trading firms. These add additional third-party risk of mismanagement however.
.
---
Risks and rewards
.
There is the potential for profits to be made from trading on the silver futures market, but the risks are high. The lower price of silver in particular means that in order to trade successfully, the amount of futures needed is high. Buying and selling also takes a lot of work, requiring the constant monitoring of the global economy to spot opportunities for buying and selling.
.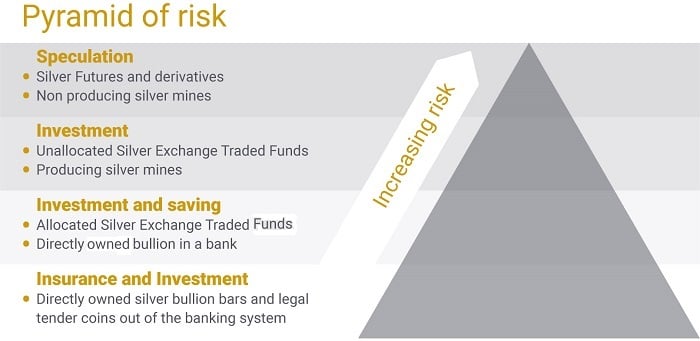 .
This explains why futures are mostly a tool for large institutions, hedge funds, trading firms and wealthy investors. It is difficult for individuals to buy and sell directly and start trading in such markets, and the higher risk of loss is more concerning to someone trying to look after their savings.
.
---
Why buy physical silver?
.
For many investors, the high-risk nature of silver futures defeats the purpose of investing in physical silver, which has a lot of advantages over silver futures.
Physical silver has no third-party risk; owners of the physical metal have total control over their investment. Silver futures are often traded with no intention of actually receiving the metal, whereas buying physical silver means you can hold your wealth in your hands. Trading through hedge funds also means paying broker and management fees, reducing any profits realised.
Silver futures are additionally restrictive in both their size and timescale. Futures will be for 1,000 or 5,000 ounces only, with an expiry date months in the future. With physical silver you can buy as little as 2.5 grams to 5 kilograms and beyond. You can buy when the time is right for you, and sell when you want to, giving you the opportunity to choose the terms of your investment.
The potential profit in buying physical silver is high too. The relatively low cost of silver at present, as well as its industrial applications, means that the price can increase very quickly and significantly. It does mean that silver is significantly impacted by economic performance, but in the past five years the price of silver has increased by 19.86%, while in 10 years it has increased by 36.87%. Unlike silver futures, which require active trading, physical silver can simply be stored away safely while gaining in value.
BullionByPost offers an extensive range of silver bars and coins, perfect for investors who are looking for a safe haven, low-risk, physical asset.
.