Silver Price Forecast 2020
---
Will silver be a good investment in 2020? Read our silver price forecast for 2020 below to find out.
A useful place to start for the 2020 silver forecast is to look at how silver performed in 2019. The silver price started 2019 at £12.11 per ounce, reached a low of £11.23 in May 2019, and a peak of £15.81 in September. That represented – at its peak – a gain of 28.96%, but silver ended the year up by 16.83% overall; performing better than gold in the same period.
With the Pound strengthened by the General Election at the end of last year, the silver price has dropped back slightly so far in 2020 (to £13.56 per ounce at the time of writing), but has held strong in Dollar terms.
.


.
Despite only being one month into the year, 2020 has already shown how uncertainty can impact precious metal prices. The sudden escalation in tensions between the US and Iran, combined with the growing fears over the spread of the coronavirus, has pushed investors towards safe haven assets like gold and silver. This has kept silver near $18 per ounce for most of 2020, despite being at just $16.62 last month.
Please note: A forecast is only ever an estimate. Unexpected factors can quickly and significantly impact prices. Past trends don't guarantee future performance, but by drawing on past trends and current market conditions, it is possible to come up with various scenarios and their potential impact on the price of silver.
.
---
2020 silver forecast
.
Many of the factors that drove the increase in the silver price for 2019 look likely to continue in 2020. Those who have read our 2020 gold forecast can consider many of the same factors as things to watch for when also talking about a silver forecast.
Signs of economic slowdown continue to warn that the world's economy is struggling. Recession was avoided narrowly by large countries like Germany and the UK, but only just. Fiscal stimulus measures across the Eurozone and Asia are keeping their respective economies out of recession, but growth is slowing. Even America and China, two of the world's biggest economies, are struggling to keep pace with the impressive growth they have been reporting in recent years.
The recent outbreak of coronavirus in China has shown how quickly an unexpected emergency can impact financial markets. With the number of confirmed cases growing and the death toll rising, stocks markets – particularly in Asia, but elsewhere too – have suffered sizeable losses, wiping out recent gains. With air travel in and out of China severely limited, the negative impact on China's economy is inevitable. This is having a knock-on effect in many other markets that rely on supplies from China. If containment efforts fail, and more countries find themselves suffering from an epidemic, then this will cause further harm to the stock markets and business investment.
When the markets enter a downturn, investors run the risk of losing out, and so safe haven assets like gold and silver, the Swiss Franc, and government bonds become ideal purchases due to historical trends of improved performance during times of economic difficulty.
.
---
Silver demand forecast 2020
.
An important factor to consider with silver is demand. As the best electrical conductor, silver is very useful in electronics. Industrial use has overtaken coins and bars as the key source of demand for silver in 2017 and 2018, and in an increasingly electronic and tech-dependent world, this is expected to have continued in 2019 too.
2020 could see this demand increase further. Global warming was the main talking point at this year's economic conference at Davos, and many countries have announced intentions to reduce carbon output significantly. With a need to diversify energy production away from fossil fuels, many countries are turning to solar power as a viable alternative. Silver is a key component in the photo-voltaic cells used in solar panels, and if demand increases for panels so too will large-scale industrial demand for silver. This will be further bolstered by increased industrial demand from the roll-out of 5G technologies.
Counter to demand is supply; the amount of metal being mined (or recycled) and refined. 2018 saw demand outstrip supply by 29.2 million ounces. Figures for 2019 haven't been released yet, but if supply fails to meet demand again this could begin to push the silver price higher by simple virtue of the deficit. Mining efforts in South Africa have been impacted by worker disputes and electricity outages, while Australian mines have reported a drop in metal output following months of drought and the recent bushfires.
.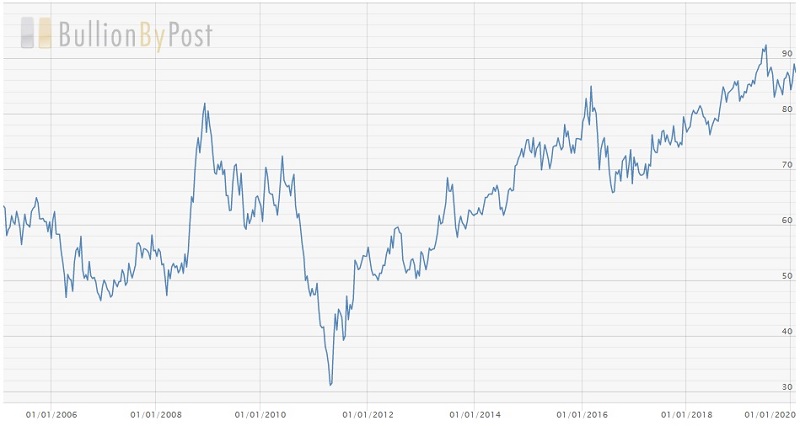 .
Another aspect to consider is the gold-silver ratio. This ratio is currently at 87.43, meaning for the cost of one ounce of gold you could buy 87.43 ounces of silver. If investors decide that silver is the more cost-effective option, and invest in it over gold, then this ratio could come down.
There are varying arguments over what the ratio should be, but during the 2011 financial crisis this dropped as low as 31.05. Even with the historical average of a gold-silver ratio at 60, silver's price based on that would shoot up to over £20 per ounce.
.
---
Prospect of silver
.
If the ongoing issues from last year continue to be unresolved, and last year's performance (16.83%) were to be repeated, then by the end of 2020 silver would reach $20.44/£15.72 per ounce. However, silver's tendency to move quickly – and by large amounts – means that this is a very conservative figure, one which was already beaten in Pound Sterling in 2019.
Many economists agree with the prospect of $20 per ounce for silver in 2020, with Metalla Royalty & Streaming ($20), Longforecast ($22), and Degussa ($23) all at or above the mark. Some believe that resolutions in the US-China trade war, and de-escalation of military tensions, could push silver down. Even the most bearish of these however, Bank of America's Michael Widmer, doesn't see silver going lower than $17.54 per ounce.
If silver breaks away from its current link to the gold price, and the supply deficit grows even further, then silver could rally much higher. If this combines with economic slowdown – worsened by a protracted struggle to contain the coronavirus – and military conflicts, then silver could easily push past $25 per ounce, and perhaps even hit $30 per ounce.
No one can make an exact guarantee of the silver price in 2020, but given the movement in just the first month, volatility does seem certain. We will post all the latest developments in the precious metals market on our news page, and update this forecast as the year progresses.