Silver Prices Forecast
---
Although silver is far cheaper than gold, the buying and selling of the precious metal can still be profitable. As with any asset, selling at a higher price than you paid is the aim. For silver this is best achieved by making a long-term investment in the metal. Silver can increase or decrease in price suddenly and quickly, but over time it has trended upwards. By keeping silver for years, the general trend suggests that you would likely see an increase in value.
Forecasting the price of any commodity – silver included – is always a question of informed opinion, rather than absolutes. Prices can rise and fall unexpectedly, and shocks to demand – or surprise political and economic announcements – can soon render any forecast outdated and invalid.
By analysing market trends and historical patterns though, it is possible to make an informed opinion as to what could happen in the near future.
For those interested in gold, we also have our current gold price forecast. Continue reading to see our expectations for the price of silver in 2020.
.
---
Silver Forecast
.
One of the key factors that could see the price of silver rise in the next year or two is the gold to silver ratio. Simply put, this is the relative difference in value between an ounce of silver and an ounce of gold.
At the time of writing (April 2019) an ounce of gold costs £977.17, and an ounce of silver costs £11.51. This puts the ratio at nearly 85; a customer could buy 85 ounces of silver for the same price as just one ounce of gold!
By looking at the chart below you can see the history of the gold to silver ratio:
.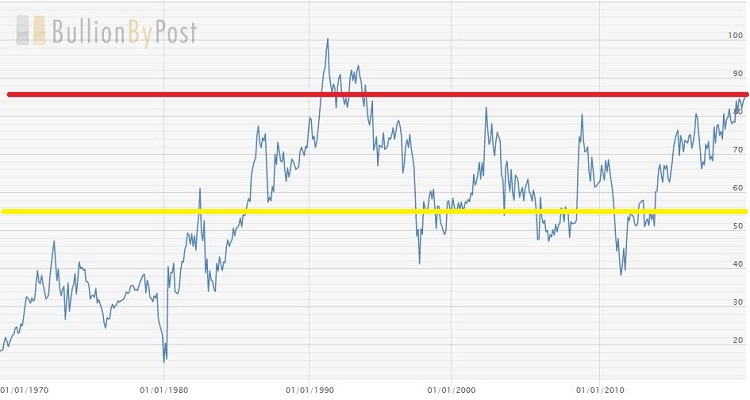 .
Since March 1970, the average gold to silver ratio is 55, as represented by the yellow line. A ratio of 80 is considered a high point in recent years, and it has only gone above this four times, not including the current ratio; 1990, 2003, 2008 and 2016. Today's ratio of 85 is the highest since the huge peak in disparity of 1990 (as seen by the red line), and the question of how long it could continue to rise is something on the minds of all silver investors. The few times the ratio has gone above 80 in recent years has usually been followed by a quick drop to more reasonable ratios of 53 (in 2004), and 68 (in 2011).
The current ratio has already broken this trend by staying above 80 for nine months, and increasing to 85, but when it does come down the increases in the price of silver could be significant.
2020 Update: The gold-silver ratio has continued to maintain the gap between the two metals so far in 2020, sitting currently at 89. This is in-line however with both metals seeing growth throughout 2019. More and more analysts however are pointing the disparity between the two, and wondering how much longer silver will remain so far below gold.
.
Economic growth is still under threat in 2020. The Eurozone in particular is close to recession, with key countries like Italy and France posting negative economic growth at the end of 2019. Germany is also under threat, with an economy essentially stagnating for nine months. The recent outbreak of the latest coronavirus has put even more pressure on these already ailing economies. The impact of coronavirus is still largely unknown, with new cases being reported daily, and cases outside of China raising the risk of a global pandemic.
Lastly, supply of silver could be under threat; Mexico, the world's biggest producer of silver, elected a new President in 2018. Just a few months later a Bill of Law was submitted with the intent to investigate the impact of mining in Mexico, and make changes to the laws as required. This could see mining sites take longer to be approved, or current concessions revoked, if the environmental or social impact is deemed unreasonable. With one of the key suppliers of silver under the threat of such big changes, this could see the silver supply reduced.
Demand for silver continues to be high, with new uses in medicine and technology being announced regularly. Of particular interest for silver, the recent surge in environmental concerns will likely see a rise in demand for solar panels. The need for sustainable energy could help silver jump to new highs. We expect that this increase in demand will make silver supplies scarcer, and drive the price up accordingly.
Read our full 2020 silver price forecast.
.
---
Sell my silver?
.
As with any investment, the decision to sell rests solely with the individual. The price of silver has gone up 11% in the past 12 months, but is down 5% in the past six. As mentioned in the introduction, it is in long-term investments that the best returns can be seen.
Silver could see its price increase in 2020, with global economic conditions on the brink of recession. The current short-term trend however has been fairly steady. Predicting when the price will being to climb once more is beyond anyone, but at BullionByPost we recommend keeping up to date with our news section, and checking the Silver Price chart to help you make an informed decision.