Solid Silver
---
.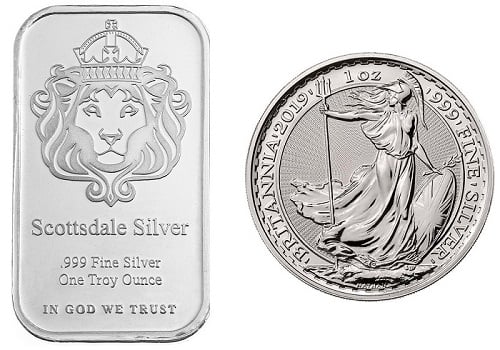 ..
A commonly asked question is "What is Solid Silver?" When talking about bullion and coins, the terms purity, quality, fineness, and solid silver sometimes get interchanged.
Solid silver refers to the percentage of the metal that is actually silver. A fine silver bar of .999 or higher is solid silver. This 99% purity means that of the entire weight of the bar or coin, 99% of it would be silver, and the remainder of another metal (typically copper). This would still be a solid silver bar, or solid silver coin.
---
Solid Silver purity:


.
.999 = Pure Silver
.958 = Britannia Silver
.925 = Sterling Silver (1852 – 1920)
.900 = Minimum requirement for bullion silver
If something isn't solid silver then this will likely mean one of two things: either the product is .500 silver (as was commonplace between 1920 & 1947) or the core of the product is another metal and has then been coated in silver via a method, such as electroplating. This will likely be done for cost purposes, using a cheaper metal for size and weight and then using the silver to produce a nice finish for the outside of the product.
All the silver coins and silver bars provided by us at BullionByPost will be solid silver.