Metalor
Metalor is a metal technology group formerly known as Métaux Précieux SA Metalor and
founded in 1852. Like fellow Swiss refiners PAMP, Metalor produces both bullion and other
precious metal alloys – specifically for the watch and jewellery industry in Switzerland.
.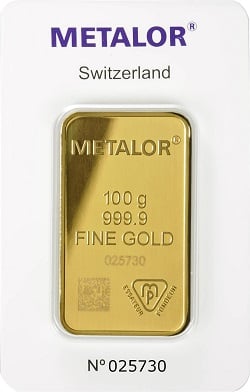 What do we sell?
At BullionByPost we are the number one UK authorised distributor of Metalor bullion
products. We stock gold and silver bars ranging from 5 grams to 1kg, with gift box
presentation options available to our customers too, should they wish to gift one of
these high-quality bars.
To see our selection of Metalor gold and silver for sale, click here.
.
Background:
Metalor was founded in 1852 by Martin de Pury & Cie. The 'Preliminary Rolling Factory'
in Le Locle, right on the French border, is quite near the city of Neuchâtel. The factory
started up to melt gold and manufacture watch cases but was acquired by the Bank of
Le Locle in 1864.
Operations continued until 1918 when the Société de Banque Suisse (SBS) took over
the plant and began to refine precious metals into bank ingots for wealth protection. It
was at this point that Métaux Précieux SA Metalor was the company's official name.
Metalor stayed in the bank's ownership until 1998 when industrial investors
bought out a majority stake. The Metalor group was recently sold again in
2016 to the Tanaka Kikinzoku Group from Japan.
.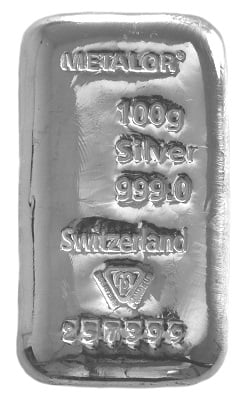 Quality:
Metalor are an LBMA approved Responsible Gold Producer and have been since 2002.
The company is evaluated annually like all the other brands we stock and has consistently
met their quality requirements to earn this accreditation.
In terms of environmental conscience, Switzerland has stringent environmental protection
laws so Metalor automatically has to have a very minimal impact on its surroundings in
terms of pollution and chemical usage in the refining process, but little more is known about
their efforts beyond this.
.
Specialty:
As mentioned earlier, Metalor were founded and heavily specialised in producing fine gold
and silver for watches and jewellery, but the company also specialised in dentistry with their
arm Metalor Dental. In a similar vein to Heraeus, Metalor provides high calibre precious
metal equipment to the medical industry for expert use – in this case for dentistry.
.
---