Umicore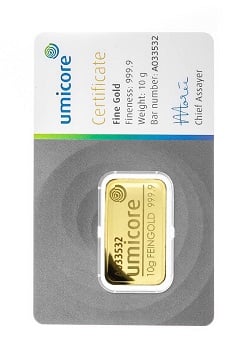 Umicore are a Belgian refiner, headquartered in Brussels and operating out of Hoboken, near Antwerp.
The company was originally called Union Minière but rebranded to Umicore in 2001 as it diversified
into using precious metals as technological components as well as producing bullion and base metals.
The company describes itself as 'a global materials technology and recycling group', referencing the
fact that Umicore recycles and adapts precious metals, as well as producing it in bullion form.
Umicore Bullion:


At BullionByPost we stock a wide range of gold and silver bullion bars from Umicore. We have small
bars of 1g, 2.5g and 5g for first-time or small investors, but for those looking to invest a bit more then
our larger Umicore gold bars go up to 1 kilo in size and silver goes up to 5 kilograms.
To see our selection of Umicore gold and silver for sale, click here.
---
The History of Umicore:


Umicore was formed in 1989 after a merger between local mining and refining companies Union Minière,
Metallurgie Hoboken-Overpelt, Vieille-Montagne and Mechim.
Their origins go back to 1805, when Jean Dony was granted control of the Vielle-Montagne mine in
Moresnet, on the Belgium border with Germany. This zinc mine firmly established itself and, in
1906, the company began to operate in Congo (now Zaire) as Union Minière du Haut Katanga (UMHK).
Here they refined copper and cobalt but by 1968 the company's African operations had been nationalised.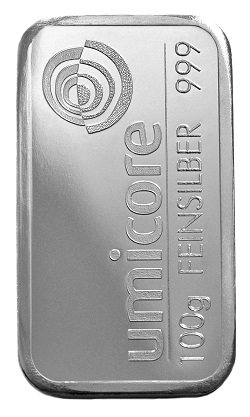 Back in Europe and Union Minière joined up with the Société Générale de Belgique as a sub-holding and
then, in 1989, came the merger. In 2001 the company moved into technological metals and in 2003 it
acquired PMG from Degussa in Germany, giving itself an automotive faction.
Last year the company reported a turnover of €12.3 billion. It employs over 14,500 people across its many metal divisions.
Umicore Quality:


Umicore have been an LBMA approved gold and silver refiner since 2013. The company is also accredited
as a Responsible Gold company for its work in not smelting any precious metals sourced from conflict
regions across the world.
Umicore Recycling:


As mentioned before, Umicore have an automotive arm which they have spent 15 years investing time
and research into. They produce catalytic converters for petrol, diesel and hybrid vehicles, as well as
metal components for rechargeable batteries to be used in hybrid and electric cars primarily, but for other
industrial and commercial purposes.
The company's Hoboken plant is also a specialist facility for recycling precious and scrap metals of all
manner of origins, with little waste thanks to their intensive research and development.
---