Brunel 2 pound coin
---
Issued in 2006, Isambard Kingdom Brunel 2 pound coins were struck by the Royal Mint to commemorate the 200th anniversary of the birth of the great mechanical and civil engineer. Unusually, two coins were issued; one coin depicts the man, and the other his engineering achievements.
Brunel is considered one of the world's greatest engineers, and was a leading figure of the Industrial Revolution. As a civil engineer, he masterminded the construction of canals, dockyards, bridges, tunnels, and railway lines. These include the Great Western Railway, and the Clifton Suspension Bridge spanning the River Avon in Bristol.
As a mechanical engineer, his designs revolutionised public transport, steam engines and ships, including the massive SS Great Britain.
.
---
Brunel £2 coin
.
The reverse design (tails) of the Brunel coin – 'the man', features a portrait of Brunel sculpted by Rod Kelly. The edge inscription reads: '1806-1859 Isambard Kingdom Brunel Engineer.'
.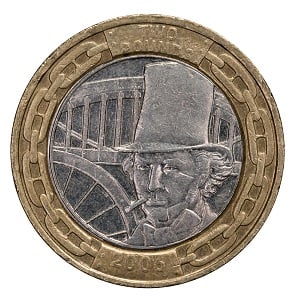 The circulating £2 coin 'Brunel - the man'.
The reverse of the coin illustrating Brunel's achievements, depicts a section of the roof of Paddington Station: this coin was designed by Robert Evans. The edge inscription reads: 'So many irons in the fire.'
The obverse of both coins shows Her Majesty The Queen, as on other £2 coins which were designed by Ian Rank-Broadley.
.
---
What is a Brunel 2 pound coin worth?
.
The £2 coins are common currency and legal tender. The Royal Mint issued 7,928,250 of each of the two Brunel coins – meaning 14,904,500 coins were issued in total. Unlike the rare Kew Garden 50p coins, this makes them far from scarce. Consequently, today their value is no more than their denomination of £2.
.
---
Gold Brunel 2 pound coin
.
In addition to the circulating 2 pound coin, both 'the man' and his 'achievements' designs are available as gold bullion proof coins. These very collectible coins are also available with certificates of authentication, in presentation cases.
.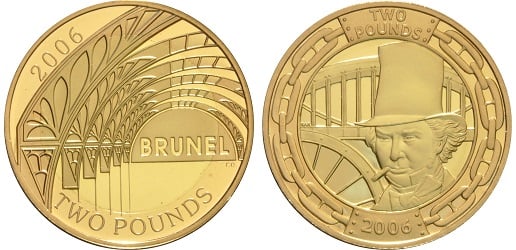 2006 £2 Two Pound Proof Gold Coin. Brunel, 'His Achievements' on the left, 'The Man' on the right.
These proof gold two pound coins are both VAT-free, and CGT exempt. This makes them popular for both collectors and investors alike.