Honi soit qui mal y pense
Collectors of some of our older products might be surprised to find that a number of English coins have the French phase 'honi soit qui mal y pense' stamped on the reverse side.
'Honi soit qui mal y pense' is a French term that has been adopted as the motto of the Order of the Garter. The phrase often surrounds the shield of the Royal coat of arms of the United Kingdom, and as a result has made its way onto British coinage.
.

Coins from the reigns of George III, George IV and Queen Victoria, all featuring the phrase 'Honi soit qui mal y pense'
As the image above shows, the design has minor variations depending on the particular monarch, but the phrase always appears surrounding the shield. In the case of the Queen Victoria Shilling – the right-hand coin – the phrase is obscured somewhat behind the shield.
.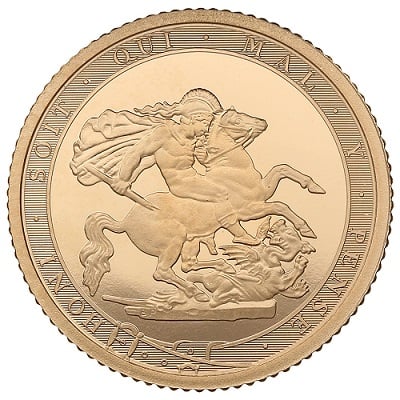 2017 Proof Sovereign
Though traditionally found on older coins, 'honi soit qui mal y pense' can still be found on some modern coins. The 2017 gold Sovereign for example, had it stamped on proof versions of the coin – as seen above.
.
---
Honi soit qui mal y pense meaning
.
'Honi soit qui mal y pense' has a number of translations including: 'May he be shamed who thinks badly of it', and 'Shame be to him who thinks evil of it'. The general theme of the phrase it to shun negative thoughts, fitting to the idea of chivalry that is central to the Order of the Garter.
The term is believed to have originated during the reign of King Edward III. The Order of the Garter was formally proclaimed in 1348, but historians believe it was founded a few years earlier. The Most Noble Order of the Garter is the highest order of knighthood in the British honours system, and consists of only 26 members. These include the reigning Monarch, the Prince of Wales, and 24 others chosen solely by the Monarch of the period.
Romantics trace the phrase back to a story in which King Edward III showed great chivalry towards his daughter-in-law, Joan of Kent. A more practical opinion is that at the time, the King was claiming the French throne for himself, and historians believe that 'honi soit qui mal y pense' was adopted to demonstrate the King's links to France.
.