Rare 50p coins
---
Considering it is one of the most prolific coins in the UK, there are a number of rare 50p coins that can be found.
The reverse of the 50p coin is commonly used to mark major national events or anniversaries. Events such as royal births and weddings, sporting events like the Olympic and Commonwealth Games, or cultural and historical occasions can all be featured on rare 50p coins. The obverse maintains the traditional image of Queen Elizabeth II.
There are obviously a vast number of coins and designs entering general circulation, and the fifty pence piece is no different. Currently there are sixty different designs of 50p coins, with an estimate of over three billion in circulation. Amongst all these however, there are a number of rare fifty pence coins. They may be rare because only a small number were ever initially minted, or because of a mistake in minting – these are known as mint errors or mis-strikes.
.
---
Kew Gardens 50p
.
The Kew Gardens coin is generally accepted as the rarest 50p coin in common circulation, explained by the fact that only 210,000 of the Kew Gardens 50p coin were minted in the first place. This is in comparison to the usual mintage numbers for 50p coins, which usually runs into the tens of millions. The coin was struck in 2009 to mark the 250th anniversary of the opening of the gardens.
.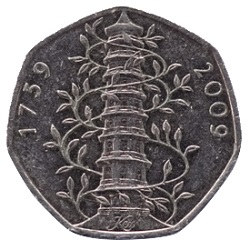 The Kew Gardens coin is the rarest 50p in common circulation.
The Kew Gardens 50p coin can sell for far above its 50 pence face value, and is officially considered the rarest of the 50p coins. Another Kew Gardens coin was issued in 2019; part of a series marking fifty years since the first 50p was issued, and celebrating the rarest issues in its 50-year history. At the time of writing, mintage figures for this 2019 coin have not been released.
.
---
Rare fifty pence coins
.
The 2012 Olympic Football and Triathlon fifty pence pieces both had a little over 1,100,000 coins minted respectively. This makes them very rare in comparison to normal production numbers. Further adding to its scarcity, the Royal Mint believes 75% of the football coins have been withdrawn from circulation.
Another sought after 50p is the Peter Rabbit coin. It was issued in 2016 to celebrate 150 years since the birth of Beatrix Potter. Some examples sold for over £800. Others in the Beatrix Potter series include Squirrel Nutkin, Mrs. Tittlemouse, Mrs Tiggy-Winkle, Tom Kitten, Jeremy Fisher, Jemima Puddle-Duck and Benjamin Bunny.
.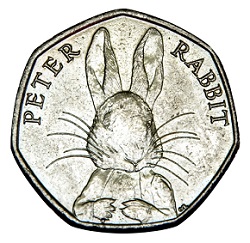 The rare and sought after Peter Rabbit 50p was issued in 2016 to celebrate 150 years since the birth of Beatrix Potter.
A very few 2012 Olympic 50p coins entered circulation with minting errors, which makes them extremely rare. This occurred on those showing the swimming or aqua events. It was noticed on the first minting that the face of the swimmer was not very clear. This was subsequently rectified, and all the early coins supposedly destroyed. A few, however, survived and went into circulation, and are now highly prized collectible items.
.
---
Bullion fifty pence coins
.
In addition to common currency 50p coins, the Royal Mint also strikes limited-edition bullion fifty pence coins. These are struck purely for investors and coin collectors. As limited editions they are, by their very nature, rare.
These limited editions include some specially struck in precious metals. Gold, platinum and silver 50p pieces all have a value in precious metal far beyond their face value of fifty pence. Plus, the collectability of the designs can further add to their worth.
As legal tender bullion, 50p coins enjoy tax benefits over precious metal bars of the same weight. This makes them specially sought after items for numismatics, plus an excellent purely financial investment.
.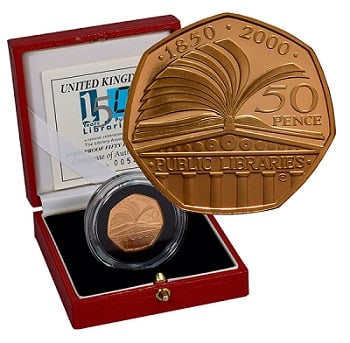 The 2000 Gold Proof Public Libraries Fifty Pence piece is a good example of a rare and collectible bullion fifty pence coin.
The 2000 Fifty Pence gold coin was released by the Royal Mint at the turn of the millennium to celebrate the 150th anniversary of Public Libraries in the United Kingdom.
.
---
Rare 50p coins value
.
Everyone can enjoy the hope of discovering a rare coin in their change. Sadly, playing on these hopes, there are many misleading stories in the press and online. These include exaggerating the value of rare coins in circulation, up to thousands of pounds. Whilst others falsely identify common coins as being rare and valuable.
Marking one hundred years since his birth, the 2013 Benjamin Britten coin is an example of this misinformation for coin collecting. Many believe it to be rare and valuable.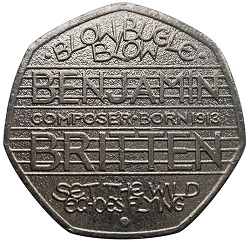 2013 Benjamin Britten coin is wrongly thought to be a rare and valuable coin.
The truth is that the silver bullion version, which looks very like the circulation coin, did have an extremely low mintage. This may be the route of the popular myth, but the common currency coin is just that - common currency, and as such it is worth 50p!