What is a die number?
---
A die number is an identifier for the die (similar to a mould) use to produce a coin. Coins are made by pressing or striking blank metal discs, known as a planchet, between two dies. The dies carry an inverted coin pattern (incuse), and give each coin it's unique appearance. The quality, material and design of a die is therefore crucial to coin production.
.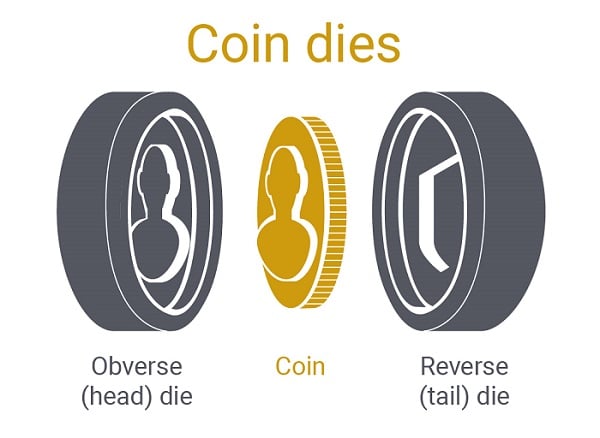 .
At various times experiments with different types of die have been trialled during minting. These tests were identified by small and very discrete die numbers or letters. These numbers or letters on a coin therefore identify the die from which the coin has been struck.
.
---
Die numbers on UK coins
.
From 1862 to 1863, during the reign of Queen Victoria, the Royal Mint began testing dies for penny and halfpenny coins. On the halfpenny coins, die numbers are on the reverse side, and to the left of the lighthouse. On the Penny coin, die numbers are below the date.
These trials led to the further tests, and the inclusion of die numbers on a range of silver and gold coins from 1863 to 1880.
.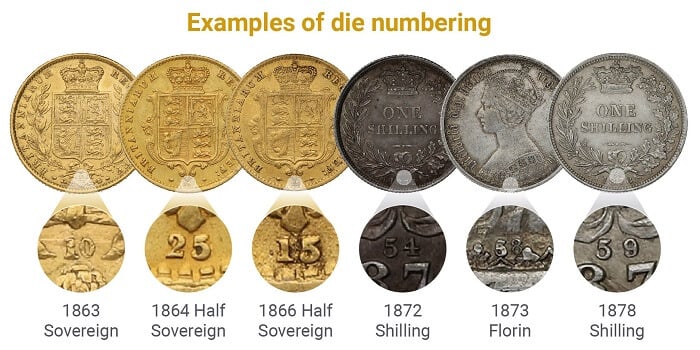 Six examples of die numbers on British coins.
These can be found on many Sixpences and Shillings of this period, positioned above the date. On Florins the number is below the portrait on the obverse. Sovereign and Half Sovereigns have numbers on the reverse, below the wreath. Crowns, Half Crowns and Three Penny coins were not included in these tests.
.
---
What is a die number on a coin?
.
The die number on a coin can help identify exactly when and where a coin was struck. Occasionally the die number can be part of a particularly unique mintage. Die numbers are therefore of great interest to numismatics or coin collectors. Some even build collections around die numbers. Despite this, the numbers generally do not affect the value of collectible coins. Given their age, and the fact that many of these coins would have been used as circulating currency, die numbered coins are often badly worn.
There are few reliable records from the Royal Mint for die numbers, therefore establishing accurate dates and related die numbers for all coins is difficult and complex. Numismatists are not ones to shy from a challenge however, and lists have been compiled by groups of collectors working together.
.
---
Mint marks
.
Not to be confused with die numbers, mint mark letters appear in a very similar size and manner, but identify where the coin was struck.
Examples of mint marks on UK coins:
| | |
| --- | --- |
| Mark | Mint |
| S | Sydney, Australia |
| M | Melbourne, Australia |
| P | Perth, Australia |
| C | Ottawa, Canada |
| I | Bombay, India |
| SA | Pretoria, South Africa |
| H | Messrs Heaton, Birmingham |
| KN | Kings Norton Metal Co, Birmingham |