Gold as an investment
---
Whether you're a seasoned investor, or someone looking towards investing in their future for the first time, gold is an excellent place to start. Long-term, safe assets are the perfect way to protect your savings against the uncertain economic times that have dominated the beginning of this century.
Below is a short introduction to gold as an investment asset but for more information please view our investment guide, or speak to our friendly customer services team at 0121 634 8060.
---
Facts about gold
.
Though other markets (such as stocks or property) can swings rapidly, gold has a stable and enduring history. Gold's extreme scarcity means it will always have value, and through the ages has been a store and symbol of wealth and luxury. Historically, when markets and stocks prices fall, gold holds (or even increases) in value, while also being protected against inflation. For these reasons it is viewed as the foremost safe haven asset. This also makes it a useful hedge against other investments and a good method for diversifying a portfolio.
.
Investing in gold
.
Only by purchasing physical gold do investors achieve outright ownership with total control, but there are other methods of buying an investment. Most popular amongst these are gold Exchange Traded Funds or ETFs. ETFs allow investors to buy shares in gold held by the fund but are subject to the risks of mismanagement and other human risks.
.
Physical gold
.
Buyers of physical gold must balance the low gold unit cost of bars against the tradability and tax advantages of coins. Large bars offer the most cost effective way to buy gold metal, but legal tender gold coins are easier to trade and more flexible. Numismatic coins can also offer a premium above the metal weight, while giving owners an opportunity to purchase a piece of history.
All gold has the advantage of being VAT free, but those looking to make a substantial profit need to consider Capital Gains Tax, which is applicable to bars but not legal tender British coins.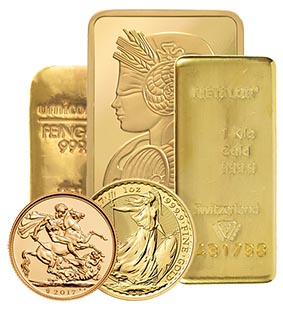 .
Means of storage and insurance costs should also be taken into account. To help, in addition to selling physical gold, BullionByPost also offers safe insured storage at an affordable low monthly fee.
.
Buy gold, sell gold
.
Gold dealers sell at a premium slightly above market prices and buy back at slightly below. Making online gold buying and selling easy, BullionByPost have a huge selection of bars and coins all at very low margins.
.
Gold investment advice
.
As a safe haven, hedge and useful diversification gold is best viewed as a long-term investment but swings in the market opens the possibility of short-term profit. Both long and short term investors are well advised to keep informed and follow the market trends. BullionByPost's price charts show the current and historic market prices of precious metals. Plus our online news pages deliver valuable investor insights.
At BullionByPost we aim to make buying gold as transparent as possible and our Ultimate Guide to Gold Investment provides more detailed advice. It does not offer personal investment or tax advice. For this you should seek independent advice from a qualified adviser.
We're here to help: If you have specific questions relating to gold and precious metal investment our outstanding, friendly and knowledgeable customer service advisors are ready to take your call on 0121 634 8060.
.
---