How to invest in gold for beginners
---

.
Newcomers to gold investment can be assured they are embarking on a well-trodden path. Because of its great scarcity, gold has always been a medium of exchange and a store of wealth. Unlike most paper assets, gold can never fall to zero value.
Gold investment can seem like a daunting prospect for beginners, but owning physical gold is one of the simplest ways to invest your money. Understanding how gold investment works – as well as the actual act of doing it – does not have to be difficult, and the barrier for entry is one of the lowest for any investment vehicles.
Beginners may see websites talking about gold ETFs and other forms of gold investment, but physical gold offers a number of benefits, and is much simpler to invest in. ETFs will be traded via funds/brokers, and incur fees as a result. The process of setting up accounts and beginning your investment is also much more difficult compared to gold.
Other investments, like property for example, are also difficult to invest in. Estate agents, surveyors, solicitors, builders, tenants; each third-party involved in an investment is an additional cost and an additional risk. As we discuss in our gold vs buy-to-let article, the returns have historically been poor for property too.
.
---
How do you invest in gold?
.
Investing in physical gold is simple. Buying it is done in the same way as buying many other online products: you create an account on a website, you choose the product(s) you want, you proceed to the payment page and enter your payment details, and once payment is confirmed then your physical gold will be packed up and posted to you. Once you have your gold, that's it - it's yours. You've invested in a physical asset, and need do no more.
As the gold price moves, your investment increases or decreases in value accordingly. Over a longer period, gold has historically been shown to gain value, which is why gold is recommended as a long-term investment.
.
Return on investment is easy to calculate for gold, and can be done with the following formula:
(Current Gold Price – Original Cost)/Original Cost).
For example, if you bought an ounce of gold for £700 and sold it today (the gold price is £1,100 at the time of writing) this would be: (1,100 – 700)/700 and would return you a figure of 0.5714, or a ROI of 57.14%.
.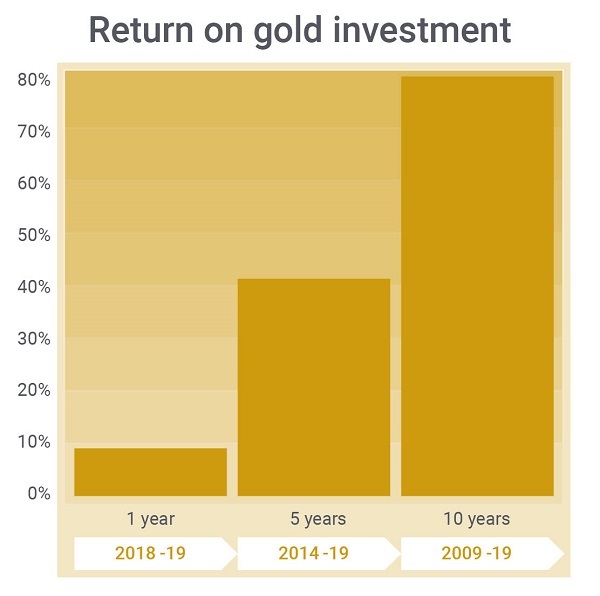 A chart showing the ROI for gold over three different time periods.
When you decide you want to sell - be it the right time for you personally, or the right time because of a high gold price - this process is as simple as buying. Customers can arrange to sell and then post their gold back to us, or turn up to our trade counter in Birmingham - whichever suits them best.
We're here to help
Even beginners can benefit from investing in gold, and the process is far easier than you might imagine. If you have any further questions our bullion index has the answers to a number of frequently asked questions. Alternatively, our customer support team are always happy to help with any enquiries, and can be reached via phone on 0121 634 8060, or email at [email protected]