14 karat gold
---
14 karat gold refers to the American equivalent of 14 carat gold in the UK. Karat measures purity in parts of 24, so 14 karat gold is 14 parts of gold, to 10 parts of other metals. The other way to describe gold purity is fineness, which measures the gold content in parts per thousand. 999.999 is pure gold, so 14 karat gold is equal to 583 or 585 fineness. As a percentage this would equate to 58.5% pure gold.
14 karat gold is used because pure gold would be too soft for jewellery; the knocks and bumps of daily wearing would leave the items damaged and misshapen. A gold alloy, at a purity of 14 karat, is therefore used instead. The metal(s) used will be a balancing act between cost, appearance, and durability.
.
| | | | |
| --- | --- | --- | --- |
| Karats | Parts of gold | Purity (%) | Fineness |
| 24 | 24/24 | 99.9 | 999 |
| 22 | 22/24 | 91.7 | 916/917 |
| 18 | 18/24 | 75 | 750 |
| 14 | 14/24 | 58.3 | 583/585 |
| 12 | 12/24 | 50 | 500 |
| 10 | 20/24 | 41.7 | 416/417 |
| 9 | 9/24 | 37.5 | 375 |
.
---
Is 14 karat gold valuable?
.
The gold bullion market trades in pure 24 carat, 999 fineness, gold. This is the raw material for any gold bullion, but as mentioned above, it would be unsuitable for jewellery.
When buying jewellery, the choice of fineness is a balance between value and durability. High fineness jewellery has greater value, and is more tarnish resistant. Lower fineness jewellery is more affordable and more hard-wearing.
14 karat gold is a good compromise between value and durability, but it is not common in the UK. It is more common in the US where it is used for the middle-range of gold jewellery. In the US ,18-karat gold is top quality for jewellery, and 10 karat the lowest permitted purity. The growth of international online shopping is however making both 10k gold and 14k gold pieces more common in Britain.
Working out how valuable 14 karat gold is can be done relatively easily. Its worth depends ultimately on the gold market spot price, which is based on pure 24 karat gold. The 14 karat gold value can be worked out by multiplying the spot price by 0.583 or 0.585.
The BullionByPost scrap gold price calculator also includes a 14 karat option, saving you the task of working out the value yourself. By entering the weight of your item in grams you can work out how valuable your 14 karat gold might be. If you would like to sell any scrap gold, then call the team on 0121 634 8060 and we will be happy to help.
.
---
14k white gold
.
The metals used in gold alloys change its gold colour or tint. Various alloys have a huge range in shades of gold. The three major shades are white, yellow and rose.
14k white gold could be made with zinc, palladium, silver and/or nickel. White gold can also be made by rhodium plating gold - this gives it an extremely hard, pure white finish. Yellow gold is an alloy of silver and copper or zinc. Rose gold is made by alloying with more copper than silver.
.
---
14 carat gold marking
.
The UK has a long history of legally requiring hallmarks for both gold and silver. Currently all UK gold items over one gram must be hallmarked. There are three compulsory marks; they are the maker or importer's mark, the assay office mark, and the gold purity.
.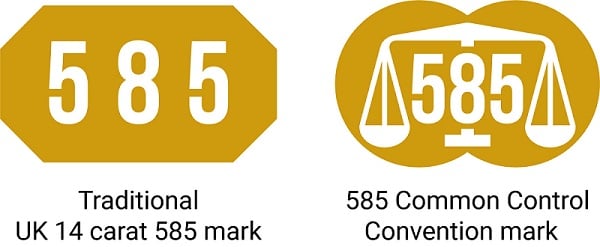 .
The purity is shown in fineness. Traditionally the gold mark is contained in an eight sided shape. The UK also recognises international convention hallmark stamps. These are contained in two circles with weighing scales. For 14 karat gold the marks will be in the millesimal fineness system of 585, rather than 14 for the karat purity.
The US marking system is less restrictive however, and only a maker's mark is compulsory. The Federal Trade Commission does however advise that US jewellery should show a purity mark. 585 fineness is therefore often indicated simply by the letters 14k.
.

.
14 karat is 585 fineness

14 karat gold is more common in the US than the UK

14 karat gold is a good compromise between value and resistance to wearing

14 karat gold is made in a range of shades