585 Gold
---
585 gold refers to a gold alloy that is 58.5% pure. 585 may be quoted in product specifications, or stamped directly onto a gold item such as jewellery.
Pure gold is a naturally soft precious metal. For virtually all practical applications, gold must be mixed or alloyed with harder metals. Most items described as gold are in fact gold alloys. Because of the high cost of gold, it is therefore important to know what proportion of gold has been used, to ensure a correct valuation.
There are two commonly accepted units that measure the purity of gold jewellery. They are the international millesimal system (fineness), and carat (karat in the US).
.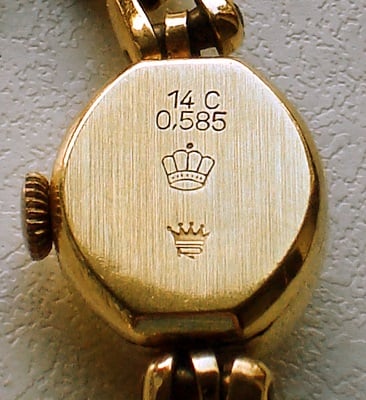 An American watch with 585 gold mark
.
Fineness measures the gold content in parts of a thousand - 999.999 is pure gold. 585 fineness then is 585 parts of gold to 415 parts of other metal - as a percentage it is 58.5% gold.
Carat measures purity in parts of 24. This means that 24-carat is pure gold. 14-carat is 14 parts of gold to 10 parts of other metals. 14 carat gold is then equal to 585 fineness and often called 585 gold.
In the UK, jewellery is commonly made with 22, 18 and 9-carat gold. These are equivalent to 916, 750 and 375 fineness respectively. It is a legal requirement in the UK to hallmark all gold items over one (1) gram in weight with its purity of gold.
In the US, 583 - in addition to 585 - gold is also classified as 14-carat or karat. 585 markings are more common with US gold jewellery than in the UK and Europe. However, with the growth of online shopping, more 585 gold is now being seen in the UK.
.
---
Carat and equivalent fineness
| | | | |
| --- | --- | --- | --- |
| Karats | Parts of Gold | Purity (%) | Millesimal Fineness |
| 24K | 24/24 | 99.9 | 999 |
| 22K | 22/24 | 91.7 | 916/917 |
| 18K | 18/24 | 75 | 750 |
| 14K | 14/24 | 58.3 | 583/585 |
| 12K | 12/24 | 50 | 500 |
| 10K | 10/24 | 41.7 | 416/417 |
| 9K | 9/24 | 37.5 | 375 |
.
---
585 Gold price


.
The gold bullion market trades in pure 24-carat, 999 fineness gold. This is the raw material for any gold jewellery. The gold market is notoriously volatile, but jewellery prices can also include many other factors.
Calculating the 585 gold price is very easy; simply multiply the current market price for gold by 0.585 and you will have a rough price. It should be noted however, the cost to process and refine this gold means the price you get will likely be lower than the calculated spot price.
BullionByPost buy scrap 585 gold, and provide the live 585 gold price to save you the job of calculating it yourself.
When buying jewellery, the choice of fineness is a balance between value and wearability. High fineness jewellery has greater value, better appearance and is more tarnish resistant. Lower fineness jewellery is more affordable and more hard-wearing, and this is one of the reasons 585 gold is a popular choice in jewellery. 9-carat is hard-wearing and affordable but may tarnish. 22-carat is more easily damaged, more resistant to tarnish but more expensive.
585 gold or 14-carat is the lowest commonly used purity in Europe. It is not common in the UK but is a good compromise between value and wearability. In the UK the lowest fineness permitted is 9-carat, in the US it is 10 and in Germany 8-carat.
.
---
Gold 585 colours
.
The metals used in gold alloys change its colour or tint. 585 gold can be made in a huge range of colours. The three major shades are yellow, white and rose.
.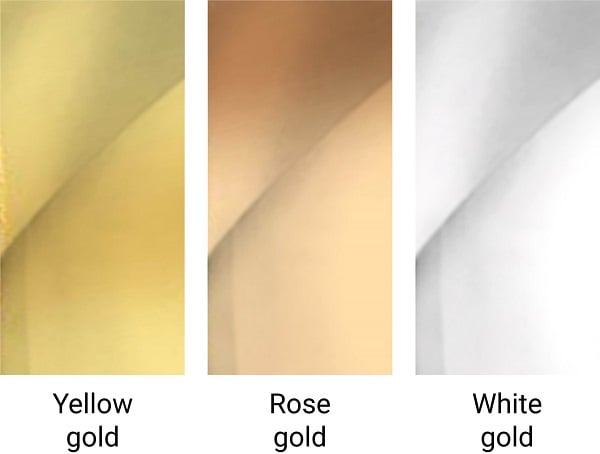 .
Yellow gold is alloyed with silver and copper or zinc. Rose gold is made by alloying with more copper than silver. White gold is alloyed with palladium and or silver. White gold is also made by rhodium plating, this also gives an extremely hard finish.
.

585 gold is 14-carat

14-karat is more common in the US than UK and Europe

585 gold is a hard wearing medium priced gold alloy

585 gold is made in a range of colours