375 Hallmark
---
A 375 gold hallmark is a reliable indication of the amount of gold in a piece of jewellery. Gold hallmarks are important because, depending on the gold content, two apparently identical rings can have significantly different values.
Because pure gold is extremely malleable, manufacturers – such as jewellers – generally mix or alloy it with harder metals. Without knowing exactly how much pure precious metal an item contains, it is difficult to arrive at its true value. A hallmark shows true and impartial proof of the composition of the item's metals – enabling better evaluations to be made. Read more about gold hallmarks.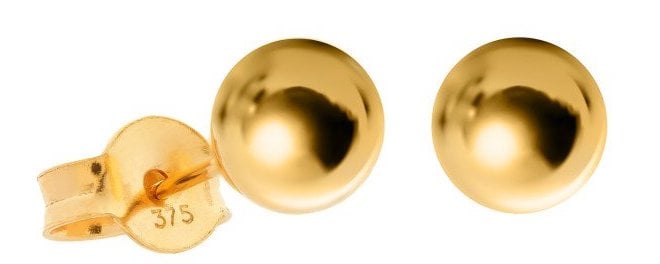 9ct Gold 6mm Ball Stud Earrings, from The Fine Jewellery Company.
The UK Hallmarking Act (1973) requires all gold items over 1 gram to be hallmarked. Hallmarking must be administered by recognised assay offices. Investment gold, such as coins and bars, are exempt from this however, and are marked with their fineness by each individual mint.
Traditionally, common control marks (the required hallmarks for all legal gold items) consisted of four punches; these were, maker or sponsor mark, assay office mark, date mark, and proportion of precious metal/fineness mark. The 1973 act removed the date letter from the compulsory marks. This left the assay office, maker, and the traditional fineness, as standard marks.
A 375 gold hallmark is one of the fineness marks. Fineness shows the gold content of an alloy as parts per thousand. An alternative measure of purity is the 'Carat'; gold carat shows the gold content of an alloy in parts of 24. Fineness of 999.9, or 24 carat, is virtually pure gold, and a fineness of 375 – as denoted by a 375 gold hallmark – is 9 carat.
Neither fineness nor carat define what other metals are alloyed with the gold. As such, a 375 gold hallmark denotes the item is 37.5% gold, the rest being made up of other metals.
.
---
Foreign Gold Hallmarks
.
In 1972, the UK became a signatory of the International Convention of Hallmarks. Member countries of the convention recognise each other's hallmarks. The Conference introduced the Common Control Mark, CCM. For gold, the CCM symbol is the balance scales with the fineness, or parts per thousand, superimposed on two intersecting circles. This helps people recognise 375 gold, no matter where it comes from.
.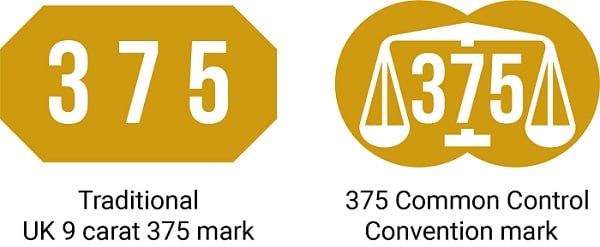 .
---
Gold Hallmark 375
.
Due to its affordability and hardness, 375 fineness – or 9 carat gold – is extensively used in jewellery. Hardness should not be confused with durability; pure gold does not tarnish or corrode. However, the other alloyed metals used in 375 jewellery may do so, and this makes 18 carat more durable. 375 fineness or 9 carat may also be more brittle than 750 fineness, 18 carat gold. This further adds to the durability of 18 carat when compared to 9.
Depending on the alloy, 375 gold appears in three basic shades: yellow gold, white gold and rose. A huge range of other coloured golds are also possible. These include green, grey, purple, blue and black.

.
Yellow gold is the most popular, and the shade most commonly thought of as 'gold'. It is an alloy of gold, silver, copper, and possibly zinc. Because it is mixed with silver, another noble metal, it is highly hypo-allergenic; meaning it is unlikely to cause an allergic reaction. This also makes it more tarnish resistant.
White gold appears almost like silver or platinum. A very popular gold for jewellery, white gold is an alloy of gold and silver, platinum or palladium – though nickel and zinc may also be added. The hardness of platinum or palladium makes white gold extremely durable and scratch-resistant. Plus, white gold jewellery is usually rhodium plated to give it a pure white appearance.
Rose gold gets its reddish tint from the inclusion of copper, though silver is also part of the alloy. The relatively low cost of both copper and silver make it a more affordable option.
.
---
Gold investment
.
HM Revenue and Customs defines investment gold as not less than 900 thousandths, that is roughly 18 carat and above. For this reason, bullion gold bars are 24 carat, and coins generally 22 or 24 carat. Investment gold enjoys tax benefits to both VAT and CGT; therefore serious gold investors would not consider buying under 22 carat gold.
The weight of gold investment coins is measured by their gold content, excluding any other metals. For example, 'one ounce' gold coins that are lower than 24 carat – such as the Krugerrand – actually contain one ounce of pure gold, plus the other metals. As a result, and slightly confusingly, some gold investment coins will weigh more than their stated gold price weight!
Jewellery buyers, unlike gold investors, will balance appearance and value against practicality. 24 carat would be too soft and impractical for general wear. 9 carat gold is hard wearing, but tarnishes more easily than purer items.
At BullionByPost we buy back 9 carat, 375 gold jewellery at competitive rates. Our scrap 9 carat calculator can give you a quote in seconds, or alternatively you can call us on 0121 634 8060 to speak to one of our support team.