What is White Gold?
'White Gold' is the result of mixing pure gold with white metals to improve durability, or to create a unique appearance. These metals are typically silver, nickel, platinum, or palladium.
White Gold covers a wide variety of alloys due to the differing metals used, and the varying metal ratios. The term White Gold can also cover a wide variety of colours from pale yellow gold or very pale rose gold. These off-white colours are sometimes concealed in various industries by plating the item in rhodium; giving it a stronger surface with a lustrous white sheen.
.
---
White Gold Jewellery

.
One of the most popular uses for White Gold is in the jewellery industry. Pure gold is soft, so wearing it as day-to-day jewellery with the wear and tear of life risks damage. The advantage of White Gold is that other metals are mixed with the gold to improve the durability, while reducing the cost of the item. The neutrality of the white colour is also popular for jewellery.
The use of nickel is generally avoided in jewellery as one in eight people suffer from allergic reactions to it, usually resulting in minor rashes.
Due to the Rhodium plating mentioned above, most white gold will discolour over time, and will require recoating to maintain its bright sheen.
.
---
White Gold Hallmark
.
White Gold uses pure gold and is subject to gold's requirement for hallmarking if one gram or more of gold is used.
Given its alloy nature, White Gold will not be 99% pure (24ct). The act of adding in additional metal is diluting its purity total. Instead, 9ct (37.5% purity), 14ct (58.5% purity), or 18ct (75% purity) will likely be the purity of any White Gold you might own. This should be clearly marked somewhere on the item in the form of a hallmark. The ring below has a mark inside it saying 750 - this refers to 75% purity and is thus 18ct.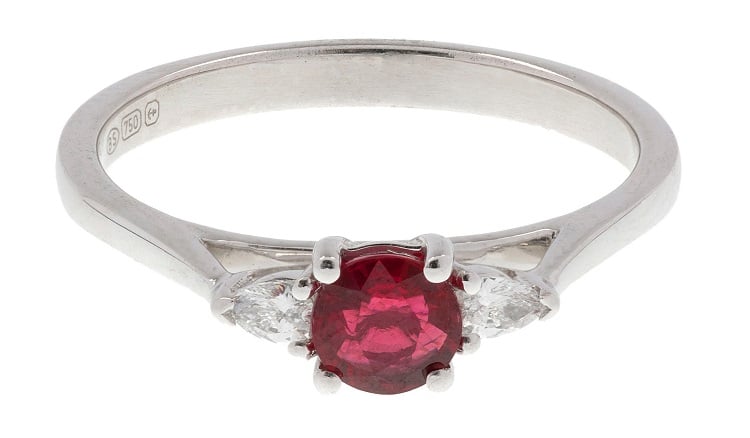 .
---
White Gold Price
.
White gold is valued on its gold metal content alone. At BullionByPost customers can use our scrap gold price calculator to get a quick idea of the value of any white gold they might own. By choosing the Carat fineness, and entering the weight of the item, you will see how much your item could be worth.
You can call our customer support team at 0121 634 8060 for a free quote, and they will be happy to talk you through the process of to sell your items.