Argor
---
Argor was a Swiss company that specialised in precious metal refinery. Currently, it is part of the worldwide group, 'Heraeus Precious Metals' and trades as Argor-Heraeus. With eleven production, and four trading sites around the world, it combines many activities related to precious metals. This includes production, minting, recycling, trading and banking.
.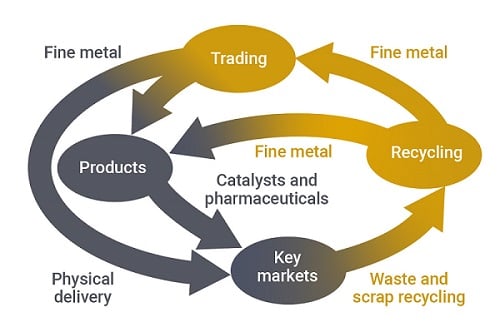 The Heraeus Precious Metals (HPM) business cycle.
At BullionByPost we stock a number of gold bars produced by the Argor-Heraeus group. We also have a related page about Heraeus for those who would like to learn more.
.
---
Argor Refinery
.
Argor have been one of the world's leading refineries for over 50 years. Below is a brief history of the company:
1951 saw the establishment of Argor as a precious metal refinery in Chiasso, Switzerland. For nearly thirty years it operated independently as Switzerland's major precious metals refinery.




.

The 1980s saw the start of a series of mergers, acquisitions, and global expansion. This led to the establishment of the global business unit Heraeus Precious Metals - HPM.




.

The development began later in 1980 when the company was bought by the UBS Group. UBS is a Swiss worldwide investment bank, and financial services company.




.

The bank went on to form a joint operation with the German refinery, Heraeus. This created Argor-Heraeus as a major investor in the company. Following this, the business set up headquarters in Mendrisio, Switzerland.




.

In 2002 it became a shareholder in the Austrian mint – Münze Österreich.




.

In 2016 the United Nations Industrial Development Organisation and Argor-Heraeus signed a memorandum of understanding. This promotes sustainable, mercury-free, technologies in artisanal and small-scale gold mining operations and production.




UNIDO Director General, Li Yong (centre), Argor-Heraeus SA Co-CEO Wilfried Hoerner (right), and Director of Refining and Banking Phaedon Stamatopoulos (left).
In 2017, 66 years after its founding, the company became Argor-Heraeus; a totally owned subsidiary of Heraeus Precious Metals. At this time the original Swiss company had also established bases in Chile, Italy and Germany. This made it a truly global precious metals refiner.




.

---
Argor-Heraeus gold bars
.
The German refiner, Heraeus, continues to buy gold, and casts/mints bars in its own name. All Argor products are, however, now made under the Argor-Heraeus brand. As the image below shows, Heraeus bars maintain the sole Heraeus brand name on the actual bars. The packaging however features the combined Argor-Heraeus logo (top right).
.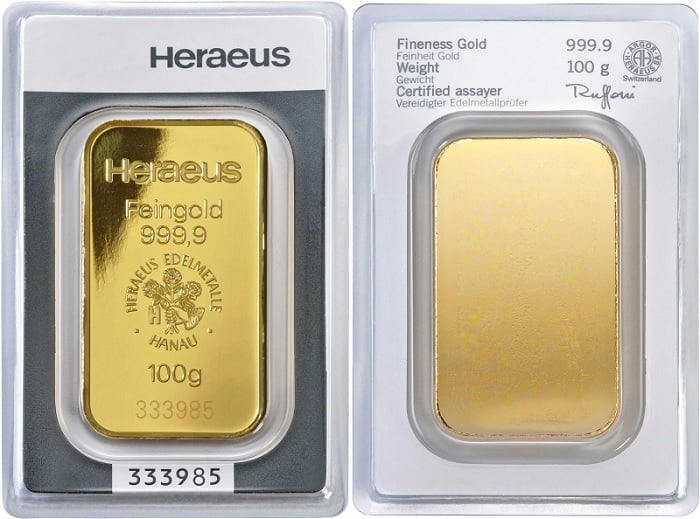 ---
Argor-Heraeus silver bars
.
The multi-national company currently offers a full range of refinery services, including the production of silver bars. All their products, including bullion bars, are assayed by the Swiss Central Office.
In the UK they are recognised by the LBMA. The LBMA stipulates a minimum refinery fineness of 995. Argor-Heraeus usually exceed this, and produce up to the very highest possible standard of 999.9 fineness.
The Argor refinery mints and casts gold bars from 1g up to 15kg. It also strikes a small selection of coins, medals and customised items.
.