Heraeus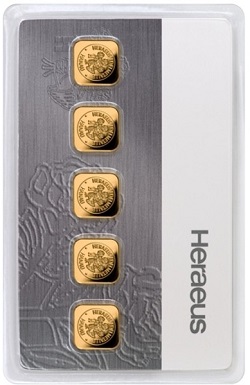 Heraeus are a German family-owned metals company based in the town of Hanau, near Frankfurt.
Founded in 1851, the company was already well-versed in gold smelting and refining, but it was
Willhelm Carl Heraeus that elevated the company to new heights with his breakthrough in platinum development.
As of 2016's figures, the company had a revenue of €21.5 billion, employing 12,400 people worldwide
across 100 subsidiary companies in 38 countries.
.
Heraeus Bullion:


.
We stock a selection of Heraeus gold bullion bars at BullionByPost, from 1g multipacks to large 100g
gold bars.
To see our stock of Heraeus bullion, click here.
Due to high demand we often sell out of Heraeus bars. Please use our stock alert system to make sure
you're the first to know when their bars come back into stock.
.
The History of Heraeus:


.
Heraeus began life in 1851, founded by Wilhelm Carl Heraeus. He took over his father's apothecary and
used his pharmacy and chemistry experience to change the business' direction. Hanau was known as
being a town of goldsmiths, so most companies had that refining mastered, but platinum was the big
challenge due to its high melting point. Wilhelm invented a way to superheat the platinum so it melted,
and thus began the W.C Heraeus First German Platinum Smelters company.
From there the company supplied workshops and jewellers across the world, before turning their hand at
dental and other medical equipment which required specialist production, such as quartz glass and the
process of melting under vacuum.
Heraeus was nearly destroyed during Allied bombing raids during the Second World War but survived. It
steadily worked to expand over the next few decades, improving its metallurgy and opening up subsidiaries
across the globe.
.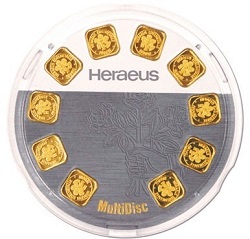 Heraeus Quality:


.
The LBMA regularly tests refiners all over the world, including Heraeus, and we're pleased to say
that the company has continued to pass since 2013, though details on earlier certification are
limited unfortunately.
.
Heraeus Medical:


.
Heraeus produces a lot of gold bullion and precious metals for investment, but this is the easy
part of their work. The majority of their research and development, and indeed technical specialty,
goes into the production of medical metals, used for specialist equipment for surgery and other
applications, such as platinum in chemotherapy. Quartz glasses are also used in medicine, due to
their durability against fluids and acids.
The company did previously have a dental arm, though this was sold off in 2001.
Heraeus is also in the world of high tech metallurgy now too, producing fine gold wiring for the
ever-growing realm of digital products and gadgets, but the most notable achievement is their
involvement in the Large Hadron Collider at CERN, Switzerland. Here the project is using a copper
coated beam screen produced by Heraeus, which features 4.4cm to 7.4cm emitter wall tubes to
assist in the data reading process as the particles accelerate around the tunnel system.
.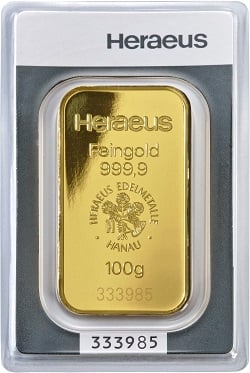 Heraeus Locations:


.
Heraeus has sites in the following countries:
Europe (Austria x2, Belgium, Czech Republic (Czechia), Finland, France, Germany x3,
Greece, Ireland, Italy x2, Netherlands, Poland x2, Romania x2, Russia, Spain x3, Sweden x2, Switzerland x2, Ukraine, United Kingdom x5)
Middle East (Turkey x2)
Africa (South Africa x2)
Asia (China x5, India x3, Japan x2, Philippines, Singapore, South Korea x2, Taiwan x4)
Oceania (Australia x2)
North America (Canada, United States x14)
Central & South America (Brazil, Costa Rica, Mexico, Puerto Rico)
.
.
.
.
.
.
---