Best ways to invest in gold
---
Be it an advert online, an article in a newspaper, or even the recommendation of a friend, investing in gold has become not just a popular investment asset, but a recommended one. What are the best ways to invest in gold though? If you search online for gold coins or bars to buy, you may be overwhelmed by the sheer number of choices you're faced with.
From gold bars to gold coins, and all the variations within, these are some of the best ways to invest in gold.
.
---
Cheapest way to buy gold
.
For many investors this is the most important question to ask yourself. The cheapest initial purchase will help maximise your profits when you sell. The cheapest way to buy gold, like many things in life, depends on what exactly you want.
Before we look at the options below though it should be noted that, for UK customers, it is highly recommended that you purchase a coin made in the UK by the Royal Mint. Most bullion coins produced by the Royal Mint are classed as legal tender and many are both VAT-free and CGT exempt. This gives coins like the Britannia and Sovereign an immediate price advantage over international coins. The first place to start finding the cheapest investment gold is undoubtedly to buy British.
The cheapest way to buy gold is to find the best price per gram. Fortunately, our website can be sorted in many cases by just such a filter. Using the 'Sort by' option located on the top right of our category pages, you can select the 'Best Price per Gram' filter. This gives you the cheapest choice of gold straight away.
Beyond this, coins or bars, small or large, new or pre-owned; all are decisions before you, and each choice has their own unique benefits, as discussed below.
.
---
Best gold coins to buy for investment
.
Pre-owned coins will typically offer the cheapest way to buy a gold coin in the UK. For investors who don't mind buying second-hand our 'best value' gold coins offer lower premiums for the same weight and purity of coin.
If you're looking for a new coin however, then the Royal Mint's Gold Sovereign is a highly popular coin for investment. VAT-free and CGT exempt, the Sovereign is a world recognised coin and is smaller than the traditional one ounce investment coin, reducing the cost. You can also buy smaller sized coins such as the tenth ounce Britannia. Smaller even than the Sovereign, this coin makes a great first purchase for a budget-conscious investor.

As with many other assets, the economies of scale apply to gold coins too; manufacturing costs become more efficient in larger amounts. If your investment budget can accommodate a bigger coin then the one ounce Gold Britannia will be more cost effective than the smaller Sovereign, while still enjoying the same tax benefits. Similarly, buying multiple coins in one order reduces admin and delivery costs, saving you money overall.
For investors with an interest in history, antique gold coins can offer the very best returns on investments. Old British coins made of gold are very rare and highly sought after, driving their prices much higher than the gold they contain would warrant. If you spot a bargain, are willing to hold on to it long-term, and sell it to a collector, then you could see your money increase significantly. One of the benefits to these coins is they will always be worth at least their gold content.
.
---
Best gold investment bars
.
Gold bullion bars work in similar ways to coins but offer an even greater range of options.
Starting from as small as one gram, gold bars are produced in sizes up to 12.5 Kilos (a very large, very heavy ingot). With such a huge range available there are bars to suit any investment size, from the smallest gift to the largest personal investment. At 24-carat, these bars are still classed as 'investment gold' and enjoy the benefit of being VAT-free in the UK. The economy of scale should once again be considered; smaller bars are easier to transport and store, but larger bars will see improved premiums.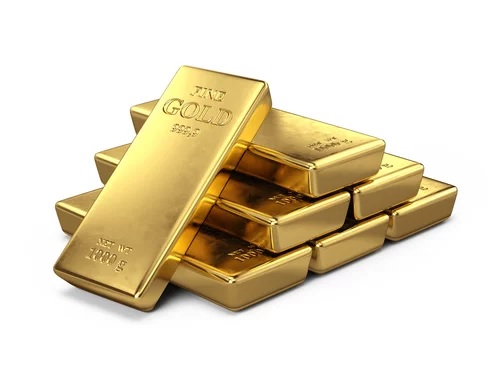 Gold bars have two different manufacture types; cast or minted. Minted bars have a finer finish and look smoother, while cast bars typically have a slightly rougher appearance. Both have the same gold content. For investment purposes, cast bars are usually best as they are made in a more cost-effective way. As with coins, gold bars can be bought pre-owned - passing savings on to the customer.
One thing to note with gold bars is the manufacturer. A number of mints across the globe produce gold bars for investment. LBMA-approved companies like Umicore, Heraeus and PAMP are all ethical, reputable producers of bars, but each charge slightly different prices for their product. Manufacturing costs and reputation vary for each (due to the country of origin) and this is reflected in the price.
For investors though, how a bar looks, or who made it, is irrelevant. If a bar weighs one kilo then this is all that will matter when you sell. Buying the cheapest available bar, at the right weight for you, is the best way to invest in a gold bar.
.
If you have any questions regarding the information here, or queries about ordering from us, then please contact our customer service team via [email protected]