Minimum amount to invest in gold?
---
You really don't need to be wealthy to start investing in gold. When you think gold, you inevitably think luxury and expense, but the reality isn't so. The initial cost can seem high when you look at the price of gold and see hundreds of Pounds per ounce or more, but with bullion weights starting at one gram you can own this precious metal for as little as £40.
Gold investment does not only benefit the rich; the saying 'don't put all your eggs in one basket' holds true for anyone with savings. It is wise to diversify your investments and spread risk. Physical gold has historically held its value in times of economic difficulty, it does not move in line with other investments (like stocks and shares), and you can have you total ownership – outside of the control of banks and financial bodies – making it quite a wise decision to include gold amongst your savings.
.
So, what is the very minimum amount you need to invest in gold, and how much should you invest?
Even owning one small gold coin helps to diversify your wealth. It can be kept as savings, or it could also be a tax-efficient gift for a child's piggy bank - and it may even set them on a path of intelligent saving.
.


.
---
Cheap gold coins
.
A quick search online for gold coins could bring up an overwhelming array of items, all with price tags that might be a shock to someone looking to buy their first gold coin. The traditional investment gold bullion coin weighs one ounce, and the price as such can be intimidating.
There are cheaper alternatives though; many bullion coins come in smaller sizes, perfect for someone on a tighter budget. The prices still fluctuate like their bigger brother, but these coins offer the cheapest way to invest in gold coins.
At the very smallest size is the 1/20 Ounce gold coins. Weighing just 1.56 grams and with a reduced diameter, these coins are quite rare but the reduced gold content makes them perfect for a first-time buyer.
After the 20th ounce, comes the 1/10 Ounce and 1/4 Ounce variants. As the names suggest, these are once again stripped down versions of the one ounce coins, but still feature gold of the same purity and the same exquisite designs, just at reduced weights.
Lastly is the 1/2 Ounce Gold Coins. For someone looking to get something just slightly smaller than a full ounce of gold or preferring to have their asset spread across more than one coin, this is the perfect coin for you.
.
If you're in the UK, one advantage to buying gold coins made by the Royal Mint is the tax exemptions of such coins. All Gold bullion coins and bars are VAT-free in the UK. British legal tender coins – such as the Gold Sovereign and Britannia also have the advantage of being exempt from Capital Gains Tax (CGT). Buying one of these coins lets you maximise your money, something that everyone can benefit from.
The economies of scale mean that gold in small units is more expensive, per ounce, than gold of larger sizes. Despite this, small units do have the advantage of being easier to store, trade and sell.
.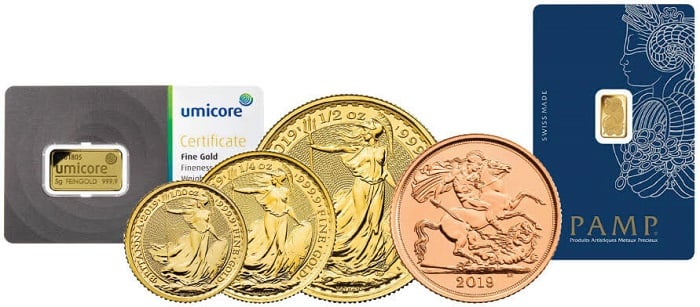 .
---
Cheap gold bars
.
Gold bars can also make for a cheap way to invest in gold and, like the coins above, come in range of sizes - even going beyond the highest weights of bullion coins. The one gram gold bar is one of the cheapest ways to invest in gold in the UK. A number of manufacturers produce these small bars specifically for first-time buyers and investors on a budget. If you're just interested in the gold content then our 'best value' bars can bring the price down even further.
.
.
---
How much should you invest in gold?
.
Someone unsure about the gold market may allocate just 3% of their funds to gold, but many investors will go up to 20% or beyond. It is entirely up to personal preference, confidence, and affordability.
Diversification is key though, and splitting your wealth into the precious metal alongside other assets is always recommended for a low-risk portfolio. Be it a small coin as a first step purchase, or a larger bar, there are gold bullion coins and bars of various sizes to meet your needs.
.