Platinum mining
---
Platinum is one of the rarest metals on Earth. Although pure lodes have been found, this is not the norm. Typically platinum is usually found alongside other platinum group metals (PGMs), within nickel and copper ores. Like gold, platinum particles can accumulate in alluvial sands in rivers – this was common in South America, and in particular the Río de la Plata ('river of silver') between Argentina and Uruguay.
Sperrylite is one of the most common platinum minerals and is regularly found as a by-product of nickel mining. Platinum minerals like sperrylite are regularly found together, others include: cooperite, laurite, kotulskite and merenskyite.
.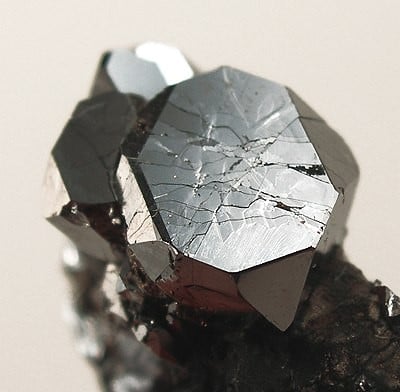 A Sperrylite mineral deposit. Photo courtesy of Robert M. Lavinsky under Wikimedia Commons licence.
.
The rarity of platinum, combined with the difficulty involved in mining and refining it, have helped keep the demand and price of the silvery, precious metal high for years. The 2015 Volkswagen diesel emissions scandal has seen platinum usage in the automotive industry decline in recent years as the industry adapts to meet pollution restrictions, but threats to platinum mining operations could easily see prices climb higher once more as supply tightens - a potential opportunity for savvy investors.
.
Platinum mine
.
Most of the world's platinum mines are found in South Africa, accounting for about 80% of all platinum production. Other platinum mines are primarily located in Russia and Canada.
The mining and refining of platinum is very labour intensive and expensive, causing many mines to close down or significantly reduce production. Labour disputes, security concerns, and dwindling supplies have all caused production to decline in recent years.
.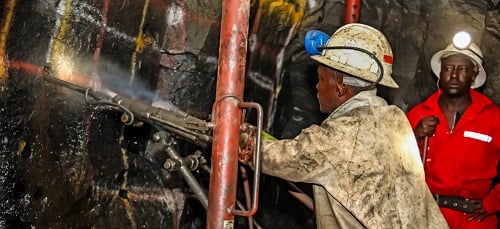 Chrome and Platinum miners in North Eastern part of South Africa drilling holes for rock blasting.
.
How is platinum mined and extracted?
.
Platinum's rarity means that open-pit mining is fairly unusual. Underground mining is much more common, with techniques such as 'narrow vein stoping' being employed by many companies. Platinum deposits are often found in long, thin 'reefs'. The mine walls are drilled and explosives are placed inside. Once detonated, the broken rock containing the platinum and other metals is transported to the surface for processing.
The ore is crushed then subjected to 'froth floatation', and the resulting 'soapy' residue is heated up to 1,500 degrees Celsius. The high melting point of platinum means that impurities like iron are burned away, and the result is a powdery sludge of platinum group metals, such as rhodium, iridium and ruthenium, as well as platinum itself.
.
---
Refining platinum ore
.
In order to produce pure platinum, further refinement is needed. This is typically done with aqua regia to break down any remaining impurities like gold and silver. Chlorine is added to turn the mixture into chloroplatinic acid, and ammonium chloride is used to make ammonium hexachloroplatinate. This can then be burned one final time to leave pure platinum.
From mining to refinement, the process can take up to six months to be completed, excluding the initial surveying required for mining operations. With 7-12 tons of ore, after processing, a refiner is only able to produce one troy ounce of pure platinum! With such low yield rates, platinum's place as a precious metal seems likely to continue for some time.
.