Gold Sovereign dimensions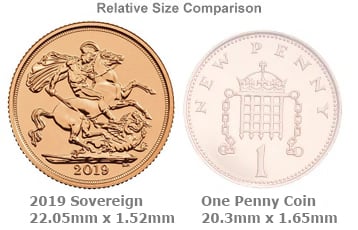 One of the world's most famous bullion coins, the gold Sovereign comes in a variety of denominations, sizes and weights, namely the Quintuple Sovereign, Double Sovereign, Sovereign, Half Sovereign, and Quarter Sovereign.
A typical Sovereign has a face value of £1, and by that logic the Double Sovereign is £2
and the Quintuple is £5. The coins do not exactly and directly scale up or down in
weight however. Click here for information on gold Sovereign weights.


As well as having different nominal face values, these 22 carat bullion coins all have
different dimensions and weights.


---
Gold Sovereign size
The chart below shows the size of the five types of Sovereign coins, with both their diameter and thickness shown in millimetres.
| | | |
| --- | --- | --- |
| Denomination | Diameter (mm) | Thickness (mm) |
| Quintuple | 38.61 | 3 |
| Double | 28.4 | 2 |
| Sovereign | 22.05 | 1.52 |
| Half | 19.33 | 1.02 |
| Quarter | 13.5 | > 1 |
---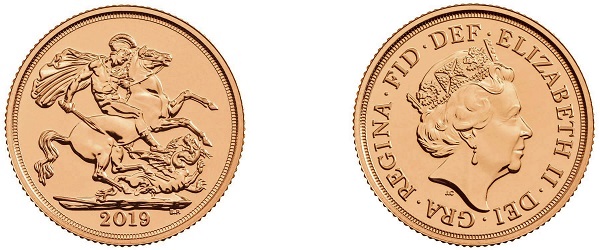 The size and weight of the Sovereigns are the easiest way to differentiate between each one. The face value is not stamped on the coin itself, meaning determining which coin you have by eye only can be difficult. Weighing the coin will usually be the first step, but if it is one of the smaller sized coins they can sometimes provide inaccurate results on a kitchen scale, so measuring the dimension may be the final step.
As bullion coins, the respective values of these coins are determined by their gold content, which is reflected in their size. As British legal tender these coins do have nominal face values, but these do not accurately reflect the true worth of a Sovereign as a bullion coin.
As well as being beautiful coins with a rich connection to British and world history, Sovereigns are popular investments due to their fine gold content and international recognisability. In the UK these coins have the additional benefit of being exempt from Capital Gains Tax (CGT), making them a tax efficient long term investment. Click here to see our range of gold Sovereigns.