Royal Mint Coins

Royal Mint coins are some of the most popular amongst investors worldwide, and the favourite for UK investors on account of their tax benefits. The Royal Mint exists primarily to manufacture - or mint - coins for use in the UK, but is also the world's leading exporter of mint coins; and manufactures and circulates coins for over 60 other countries.
In addition to manufacturing mint coins, they are responsible for producing coin blanks and official military and commemorative medals, and operate as a separate business producing jewellery and collectables. The Royal Mint originated over 1,100 years ago, and has an exclusive contract with HM Treasury to supply all UK coinage.
.
---
The Royal Mint - British Gold Coins
.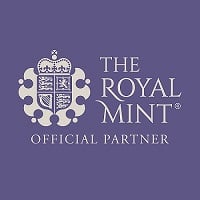 Here at BullionByPost, we are an official partner of The Royal Mint. As an authorised distributor, we stock a comprehensive
range of gold and silver coins including Royal Mint bullion coins ideal for investment; all available at very low margins.
These British gold coins include world-renowned series including the Britannia, gold Sovereigns, Queen's Beasts and more.
All of these British gold bullion coins are highly attractive to UK investors due to their status as British Legal Tender. This means
that as well offering greater flexibility to investors than other types of gold bullion (such as gold bars), gold coins struck by The
Royal Mint offer the ultimate value for investment as they are both VAT-free and Capital Gains Tax (CGT) exempt.
At BullionByPost we offer a comprehensive collection of Royal Mint coins ideal for investment at competitive margins.
Register for your free online account today.
.
---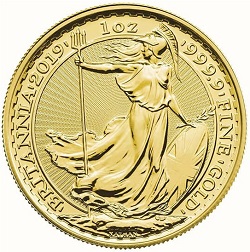 Britannia Coins
.
The one ounce gold Britannia coin was first issued by the Royal Mint in 1987, and quickly became
the most popular of all the British gold bullion coins. A Britannia coins contains one troy ounce of
fine gold, and originally was struck at 22-carat purity.
Since 2013 however, the Britannia was switched to 24 carat gold, in line with other investment coins.
With a legal face value of £100 the Britannia is both VAT-free and CGT exempt, making them one of
the most efficient ways to purchase gold for investment. The design of the Britannia coin has remained
largely unchanged, featuring the female image of British rule, but has received some unique designs
on occasion. The Britannia is also produced in smaller denominations for investors who want increased
flexibility, with lower prices, but for the same design.
The silver Britannia is also the UK's most popular silver coin for investment, as it too benefits from being CGT exempt.
.
---
Gold Sovereign Coins
.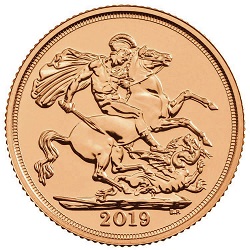 The Sovereign is the flagship coin from the Royal Mint. Struck since 1817, the Sovereign is
recognised the world round. The famous design by Benedetto Pistrucci, has been used for
over 200 years, and Sovereigns were struck in mints throughout the British Empire.
Continuing tradition, the Sovereign continues to be struck in 22 carat gold, and weighs 7.32
grams of gold, putting it just below a quarter of a troy ounce. Despite being worth far more,
the Royal Mint applies a legal tender of £1 to the Sovereign coin. This means that like the
Britannia, the Sovereign is both VAT-free and CGT exempt.
Thanks to the long history, the Sovereign even has an additional historical value, placing it
firmly in the category of being semi-numismatic. Although millions of Sovereigns have been
minted over the years, older examples can still fetch an additional premium above their gold
value.
.
---
Royal Mint Gold Coins
.
The Royal Mint also produces a number of other bullion coins for British investors. This includes commemorative series – such as the Queen's Beasts and Lunar coins. These coins are produced with unique, beautiful designs; making them collectable coins while maintaining the all-important tax benefits.
The Royal Mint also produces numerous commemorative currency coins each year, marking key events and people from British history. Many of these coins are also produced in gold or silver, and are highly sought after by collectors and investors. Almost all UK currency coins have gold variants, but the fifty pence, two pound, and five pound coins are the most common to be struck in gold.
.

BullionByPost have been selling Royal Mint coins for over ten years now, and have grown to become the UK's number one online bullion dealer. Read about why you should buy your Royal Mint coins from BullionByPost.