1995 2 pound coin
---
The Royal Mint struck two £2 coins in 1995; one to mark fifty years since the end of World War Two, and another marking the fiftieth anniversary of the United Nations.
.
---
1995 £2 coin
.
The bi-metal circulating £2 coins we know today weren't introduced until late in 1998, before this time – from 1986 to 1996 – two pound coins were minted as purely commemorative coins. These commemorative coins were uni-metallic, brass alloy coins released in circulation, with the addition of gold proof editions for collectors and investors.
The obverse of both 1995 £2 coins show the third, crowned-portrait of Her Majesty Queen Elizabeth II. She is facing right, and wearing the George IV State Diadem. The base-metal coins, and gold proof coins share the same designs for the reverse side.
Because of their £2 denomination, the gold £2 coin is sometimes referred to as a Double Sovereign. Both of the 1995 two pound coins contain 14.63 grams of 22 carat gold, making them both a sound investment, and an interesting collectable.
.
---
1995 World War 2 coin
.
The first, and more numerous, of the two coins is the 50th Anniversary of the end of the Second World War coin. 4,394,566 base-metal versions of the 1995 World War 2 coin were minted, and 2,500 of the proof gold coins were struck.
Designed by John W. Mills, the reverse (seen below) shows the dove of peace – a symbol of magnanimity in peace and goodwill. The edge inscription reads '1945 IN PEACE GOODWILL 1995'.
.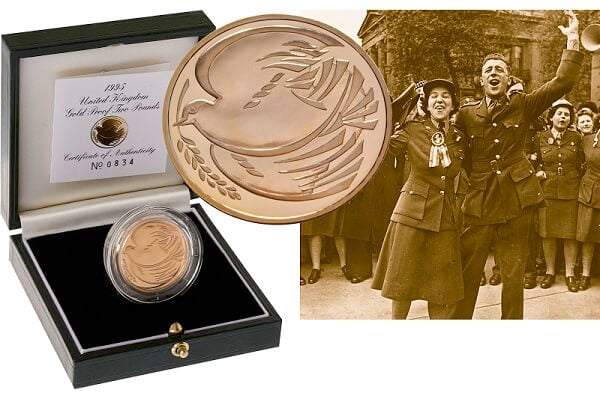 50th Anniversary of the End of the Second World War coin boxed, in capsule, with certificate.
We often hear of people getting confused between the circulating nickel-brass coin and the gold version, as the two can look similar. Both are 28.4mm in diameter, but the nickel brass coin is thicker. As a general rule: if the coin you have is thicker than a normal bi-metal £2 coin, then it is not gold, but the standard commemorative coin. The gold coin is just 2mm thick – similar to a ten pence piece – and weighs 15.98g. Weight will be the other key differentiator between the two; the gold coin will weigh more than the base metal coin.
.
.
As shown in the image above, the gold coins (seen on the right) are thinner, and have a slightly warmer colouring.
---
Nations United for Peace £2 coin
.
The second £2 coin is the 50th Anniversary of the Founding of the United Nations coin, designed by Michael Rizzello. The reverse shows several flags in a fanned pattern, with the words NATIONS UNITED FOR PEACE above, and the dates '1945–1995' below. There is no edge inscription.
.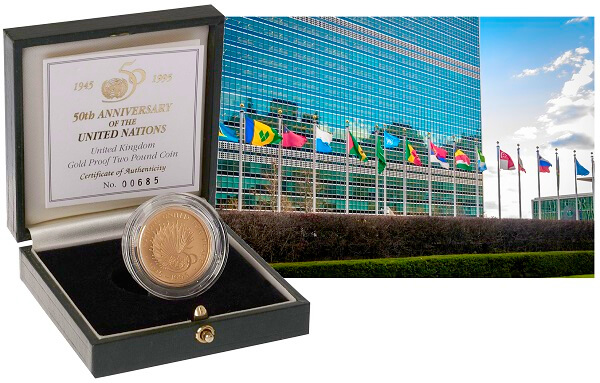 50th Anniversary of the Founding of the United Nations coin boxed, in capsule, with certificate.
1,668,575 were minted for circulation in base metal, with an issue limit of 17,500 of the gold proof coins.