SALE: 3% off everything*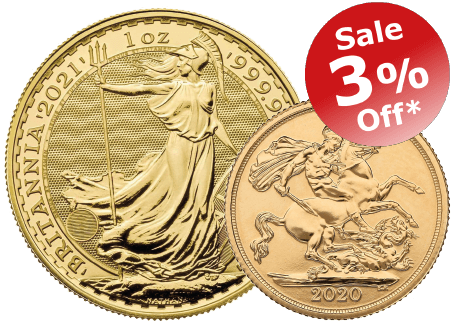 Prices cut on thousands of products. All orders include free insured delivery.
Shop Gold Coins
How To Buy Gold
The ultimate guide to investing in Gold

Read Investment Guide
Commemorative £2 coins
---
The history of UK commemorative £2 coins is complex and confusing. Confusion occurs because, in addition to common circulating currency coins issued in 1998, there have also been numerous other commemorative £2 coins. This includes various celebratory £2 coins, plus collectible bullion Double Sovereigns. All of these also have a legal tender face value of two pounds.
All gold Double Sovereigns have a legal tender face value of £2, but there are other gold bullion coins with a legal tender of £2. These include many proof and commemorative £2 coins, but strictly speaking, they are not Double Sovereigns. They are, however, often referred to as Double Sovereigns.
.
---
£2 circulation coins
.
The current £2 bi-metallic coins were first minted by the Royal Mint in 1997. They were introduced as common currency on June 15th, 1998. It is the highest value circulating coin in the UK.
No £2 coins were released for common circulation during the introduction of the 12-sided bi-metallic one pound coin in 2017. Except for this, it has been issued every year since 1998. The 1998 release followed earlier, uni-metallic, celebratory versions which were minted from 1986 to 1996. Unlike the 1998 coins, these early commemorative £2 coins were intended for collectors and not issued as circulation currency.
.
---
Commemorative 2 pound coins

The following is a list of the commemorative 2 pound coins issued by the Royal Mint. Some of these were circulating coins, but also had gold bullion versions released for collectors and investors.
1989: Tercentenary of the Bill of Rights
1989: Tercentenary of the Claim of Right
2013: London Underground 150th Anniversary
2015: 800th Anniversary of the Magna Carta
2015: The Royal Navy
2016: William Shakespeare
2016: The Army
2016: The Great Fire of London
2017: Jane Austen
2017: First World War Aviation
2018: The 200th Anniversary of the publication of Frankenstein
2019: Wedgewood 260th Anniversary
2019: The 350th Anniversary of the last diary entry of Samuel Pepys


.
---
Double Sovereigns
The first gold Double Sovereign to enter into circulation was issued to celebrate Queen Victoria's Golden Jubilee in 1887. This followed the introduction of the 'modern' gold Sovereign in 1817, with a face value of £1. The design of the Double Sovereign follows the normal Sovereign - that is the monarch's head on the obverse, and George and the Dragon on the reverse.
.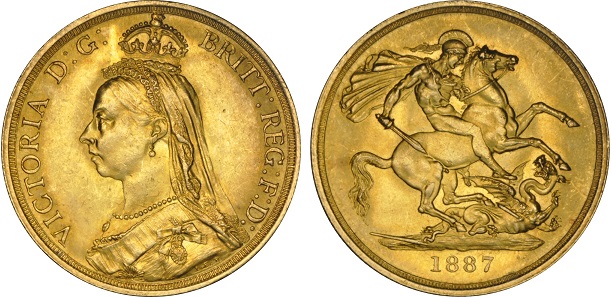 The 1887 Double Sovereign was the first £2 coin to enter circulation.
As far back as even 1485, there had been previous attempts to issue a double sovereign. Some of these early coins were struck, but none entered into circulation.
Even though they are classified as legal tender, gold Double Sovereigns and gold £2 coins are minted as collectable or bullion coins. Being legal tender, Sovereigns and other gold coins enjoy tax benefits over gold bars with the same gold content.
All gold Sovereigns and gold £2 coins have a fineness of 916.7 or 22 carat. For comparison Gold Britannia coins are 999.9 fineness or 24 carat and have a legal tender face value of £100. The Double Sovereign has a pure gold content of 14.63 g. This is very slightly over double that of the Sovereign, which has 7.322 g. The total weight of the Sovereign is 7.98 and that of the Double Sovereign 15.98 g.
In addition to the Royal Mint Double Sovereigns, the Pobjoy Mint in Surrey, also mints an Isle of Man Double Sovereign. It has the same metal content as the Royal Mint Double Sovereign. The reverse, however, shows a Norse Warrior on horseback, rather than George and the dragon.